:::

Bamboo Industries Project (Guatemala)
Themes
Agriculture
Sustainable Development Goals (SDGs)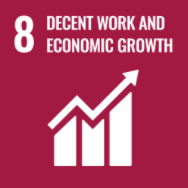 08.Decent Work and Economic Growth
Project Name:Bamboo Industries Project (Guatemala)
Project status:Completed projects
Cooperating Country:Central America, Guatemala
Project Description:The trend of world in eco sustainable development that was encouraged and promoted the beneficiations of bamboo applications, in terms of reducing carbon emissions, protecting basin and landslide and substituting timber consumption. This project intends to use the country's abundant bamboo resources to enhance the competitiveness of manufacturers in this industry.
This project aims to:
1. Improve bamboo production, processing technology and management skills.
2. Increase the amount of commercial cultivation of bamboo.
3. Promote the use of bamboo within the country, strengthen Guatemala's ability to undertake the planning of bamboo industry and promote green industry, as well as boost local economic development.


To watch the video made by the TaiwanICDF: El bambú, mina de oro verde: Proyecto Industrialización del Bambú en Guatemala



To watch the video made by the TaiwanICDF: Proyecto de Industrialización del Bambú en Guatemala
















Project No:TH-310-2011-006
Implementation Start Date:2014-01-01
Implementation End Date:2021-12-31
Project Objectives:I.Enhance bamboo production, processing and management capabilities:
1. Introduction of Phyllostachys Pubescens
2. 1 technical manual on bamboo growing.
3. Existing 700 hectares bamboo counseling service; increase bamboo harvest up to 35%.
4. 12 bamboo processing training courses, trained a total of 160 people
5. 1 seminar on bamboo product design
6. 5 training courses on management skills, trained a total of 75 people.
7. Invite 5 experts to provide short-term counseling
8. Provide counseling for 35 bamboo manufacturers. Select 4 manufacturers as benchmark enterprises. Average total assets increase by 50%-60%.
9. 1 bamboo industry counseling outcome report (including manufacturers diagnoses)
10. 1 bamboo industry business plan
11. 1 bamboo industry result presentation
II.Increase commercial production of bamboo: build 300 hectares of commercial bamboo and 1 bamboo material treatment and processing Center
III.Promote the use of bamboo:
1. Provide 2 bamboo industry market research
2. 1 investigation on bamboo resources; state regional and global bamboo market's supply and demand actual situation
3. Assist bamboo manufacturers participate 5 times in national exhibitions.
4. Invite bamboo industry's experts to hold 1 seminar.
Executing Agency:
1. Taiwan Technical Mission in Guatemala
2. Ministry of Agriculture, Livestock, and Food (MAGA)
Current Progress:
To the end of December 2021, the following activities have been completed:
1. Provided diagnoses and primary business counseling service to 35 manufacturers.
2. Assisted 37 manufacturers in participating in 9 nationwide exhibitions.
3. Invited 10 Taiwanese experts on bamboo industry, construction, treatment, processing and product design to conduct 14 seminars and 6 workshops, with 2,923 participants in total.
4. Provided 168 training courses on bamboo cultivation, bamboo furniture, and bamboo processing techniques, with 3,407 participants in total.
5. Conducted 4 training courses on management skills, with 100 participants in total.
6. Completed 228 hectares of bamboo cultivation for commercial purpose.
7. Provided technical assistance for 996 hectares of bamboo cultivation for conservational purpose.
8. Compiled 3 technical manuals including of "Bamboo Cultivation and Bamboo Processing", "Operation Manual for Bamboo Treatment" and "Agricultural Structures Guide".
9. Completed market research report for the bamboo industry and the Business Plan of the " Centro de Transformacion e Investigacion de Bambu" .
10. Accomplished three occasions of the results presentations on bamboo industry consultation.
11. Established 49 demonstrational bamboo facilities and buildings for the functions of agricultural, environmental and public service.
12. Implemented the factory construction of the Bamboo Treatment and Investigation Center (2nd phase). There are 5,075 bamboos columns that have been treated and processed into the structure models in the center, also we have produced 61 square meters of bamboo laminated boards.
13. Established and maintained 4 regional bamboo nurseries, total amount of bamboo seedlings production to be 50,869 plants.
14. Encouraged and assisted 315.6 ha of the bamboo forestation for non-commercial use, that include of the bamboo plantation and environmental impact area.
15. Undertook 30 consultations to the beneficiaries of bamboo industry that in terms of technology、equipment、new product design and innovation, marketing associating etc.
16. Undertook 33 functional activities of bamboo industry that in relation to capacity building, reconnaissance and new product development.
Project Contact:Ju-Lan Wu
Phone:+886-2-2873-2323 Ext.226
E-mail:j.l.wu@icdf.org.tw
Projected Benefits:Enhance Guatemala's bamboo industry output value up to 2.8 times.
Mission:Taiwan Technical Mission in the Republic of Guatemala
Update:2022-05-11
Hits:1602