Special Reports
First Reserve Overseas Project Management Training Program Launches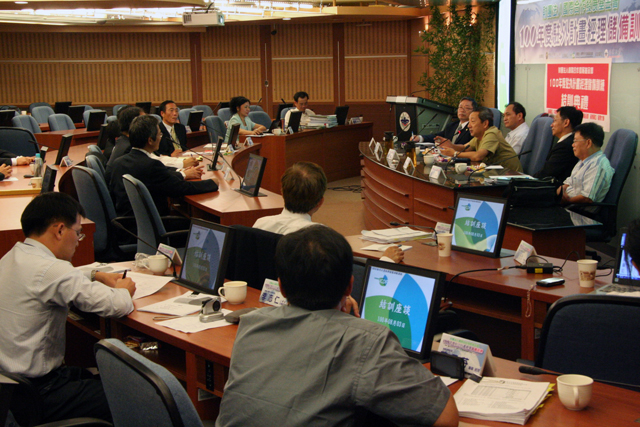 The TaiwanICDF's first of two Reserve Overseas Project Management Training Programs recently took place from June 4 to August 3, with eight specialists and technicians returning to Taiwan to attend the 23-day event. Course design focused on many aspects of project management that are already well established in the business community, such as process and knowledge management, standards for project documentation and proposal submission, time management, quality assurance, risk management and human resources management. The program also covered sectoral analysis, problem analysis and decision-making, network systems and information security, presentation, negotiation, performance evaluation, key performance indicators and government public relations and media skills.
The program, which is set to train a total of 17 personnel following a second session in October, comes in the wake of significant organizational reforms and strategic improvements introduced throughout the TaiwanICDF in the past year. Among these reforms, the organization has a renewed commitment to work in accordance with legal norms and international trends. As a result, its 50-year-old system, under which mission leaders are each assigned to oversee the work of Taiwan Technical Missions, will be replaced by a more fluid roster of project managers.
The newer system will also promote a more "scientific" approach to project management. In past years, the outgoing system, currently overseen by mission leaders, has lacked overall planning and suffering from poorly structured budgets and resource allocation. The system has limited capacity to manage multiple, ongoing projects, and is arranged in such a way that it has become virtually impossible to transfer sustainable, effective projects on to local stakeholders. Many programs are mired with a legacy of budgetary and accounting inconsistencies that burden local stakeholders into the future. The purpose of the newer system is to achieve targets that accomplish localization and meet international standards. The system will also ensure that the TaiwanICDF's aid programs are implemented effectively, guarantee that resources are utilized lawfully and judiciously, and maximize the benefits of the technical assistance provided by Taiwan.
TaiwanICDF Secretary General Ambassador Tao Wen-lung attended the training program on July 15 and August 3 to lead a discussion group, during which he responded to individual doubts that were raised by attendees, explained the essence of the project cycle, and clarified certain misconceptions about the nature of project management.
Reducing Dispute and Error by Working to the Project Cycle
Ambassador Tao began by explaining that the project cycle model presently being deployed at the TaiwanICDF is based on an internationally accepted project cycle and backed by numerous case studies. He also explained that rather than enforce a system of "rules," however, the purpose of the project cycle is to provide a "checklist," which, when followed step by step, will reduce the potential for dispute and error.
Ambassador Tao said that previously, project implementation at Taiwan Technical Missions had mostly taken a "word-of-mouth" approach. With only cursory discussion taking place on crucial issues such as budgets prior to their implementation, there was little possibility of making adjustments to projects if problems arose later on. Such lack of planning created undue pressure during the implementation phase of projects and had bred a culture of rush jobs and cutbacks, he said. When emergencies arose, there was no longer any leeway with which to tackle the situation.
"If we begin to adopt a project-oriented approach and work in accordance with the project cycle, then basic measures such as project appraisal become available to us, which will help to reduce the kind of disputes that have arisen in the past," he said.
Referring to an ancient Chinese parable, A Plum Tree by the Wayside, to illustrate his point, Ambassador Tao added: "Whenever we see low-hanging fruit, we need to think carefully and understand why others decline to pick it, even as we've continued to do so. We need to watch out, because this kind of fruit can leave a sour taste."
Project implementation, he said, should be a case of more haste, less speed, and project planning should not be done with impatience. The TaiwanICDF must only proceed after investigation and appraisal, he said, noting that European countries are not "foolish": "They don't work like that; they know it's a trap."
In particular, as Taiwan's democracy has matured it has become impossible for Taiwan's foreign aid projects to revert to a situation where the TaiwanICDF agrees to "hand over the money first and ask questions later," Ambassador Tao said, adding that the TaiwanICDF cannot afford to take this point too lightly and must follow international processes.
In many European countries, therefore, planning for a single project can take as long as two years: "This is how cautious they are; they're very conscious that doing something too fast can lead to greater losses down the line. With our projects, if we don't have objectives right from the start then preparatory phases lasting six months would not be excessive. We also have projects competing with one another; we must consider the overall picture and not become sidetracked by wasteful action."
Ambassador Tao also explained that before moving ahead with any project, it was necessary to complete all preparatory work, adding that previous TaiwanICDF projects audited by the government's Control Yuan had been found to add as little as one percent to the industrial output of the recipient country. With such problems of inefficiency having been exposed, he said, projects that were too small or did not meet local development needs effectively would be cut. The TaiwanICDF now plans to enforce the closure of a number of existing projects, which will see a reduction from 85 to around 40-50 projects.
"But I'm not saying that existing projects should be closed as quickly as possible," he added. "They should proceed rationally and logically. There's no need to cut corners or, on the other hand, embellish what we do. I'm not going to prescribe a fixed number of years for a project to be handed over, but I do want to see us complete things and then move on."
Tackling Poverty Means Alleviating, Not Relieving, Poverty
Moving on to the issue of poverty, Ambassador Tao said that in terms of the way the TaiwanICDF defines aid giving, there should be a clearer distinction between alleviating and relieving poverty.
"Partner countries are the subject of this alleviation, and this is based on the concept of building capacity," he explained. "Our role is simply that of a provider of development assistance. And here, our ultimate goal is to pass on technical know-how and transfer projects smoothly, so that people in our partner countries can lift themselves out of poverty. Conversely, poverty relief generates a kind of dependent relationship. When relief dominates the overall picture, recipient countries gain no capacity to do things independently."
Ambassador Tao also noted that in terms of categorization, poverty relief is generally regarded as a major role of NGOs and charitable organizations. By contrast, the TaiwanICDF places greater emphasis on development and should give prominence to alleviating poverty, offering development aid that primarily concerns wealth creation rather than relief. In the wake of natural disasters and emergencies, various actors play a number of different roles, he said, and in the initial aftermath the focus is on donation and short-term relief. The TaiwanICDF should become involved at the point when development opportunities arise, which is often after the resettlement of survivors has taken place.
Stressing that TaiwanICDF projects should be driven by "cooperation," Ambassador Tao said that partner countries should be willing to take on part-ownership of projects and that this principle would be incorporated into future project planning.
"In the past, personnel at Taiwanese embassies or Taiwan Technical Missions have been unwilling to really transfer operations on to local stakeholders, and this mentality has to change, because it's sometimes taken as little as one signature on a piece of paper for us to hand over one or two million dollars of aid," he said.
"This is totally inconsistent with the project cycle. If we do things according to procedure but then decide, following initial project appraisal, that our opposite number has little desire to move forward, then it's fine to say that perhaps this project is something that shouldn't go ahead — because, although it should be our partner countries who take the reins, the TaiwanICDF should still be sitting alongside, offering some kind of direction. And in our role as 'driving instructor,' it's our responsibility to rein things in sometimes, rather than put the cart before the horse. Otherwise, we not only lose the respect of our peers, but also end up wasting public money."
"Do it Right the First Time"
Ambassador Tao said that to allow for consistency in managing risk, project managers working under the newly designed system will be involved in project planning from the outset, and move through the phases of the project cycle gradually: "Take our project manager in Belize, for example. After she'd drawn up the project, there were a host of aquaculture-related details to discuss with authorities, including national laws, venues and property rights, computer hardware, construction, and the composition of cooperating teams. All of this is going on in accordance with the project cycle and potential problems are being clarified in advance, which suits our need to 'do it right the first time.'
"When a project is underway, project managers, professional staff and technicians based at Taiwan Technical Missions should not view their relationships as being hierarchical — it's all a kind of partnership. Things should be done by the book and controlled internally by the TaiwanICDF. We should differentiate between managers responsible for production, marketing, personnel and human resources, R&D, and financial affairs. Professionals and technicians such as these will be entirely responsible for project implementation. However, at the present, transitional stage, and for the sake of rational and effective management, we may continue to make adjustments to this system.
"Of course, one project requires one project manager, whose role and position should remain constant — although there should still be room to make adjustments that account for any unique issues that arise. In Swaziland, for instance, we're recruiting for our Vocational Training Project right now. If the language skills of experienced members are not quite good as we need, we can send two people, even if this costs more, which will help to keep to the planned schedule. Furthermore, due to the scale of projects such as our Morotai Development Project in Indonesia, there's a worry that this is not something that one project manager can do on their own. So we'll send a team, as we've done during similar endeavors in the past, so as to gain some experience on the ground and then manage the project by hiring significant local help."
The training program was wrapped up with an awards ceremony for the highest achieving participants. First prize went to Hong Xin-rui, a technician with the Taiwan Technical Mission in Honduras; second prize to Cai Nian-ci, a specialist at the Taiwan Technical Mission in the Dominican Republic; and third prize was picked up by Lin Yi-kui, a technician working from the Guatemala-based Taiwan Investment and Trade Service Mission in Central America.
After handing out the awards, Ambassador Tao left participants with one earnest reminder: "Where you work should be a lifelong place of learning, and this training program is not an end but a beginning. As well as focusing on technical skills, continuing to sharpen management skills will ensure that every post is filled with competent project managers."
Finally, Ambassador Tao said that although the TaiwanICDF's technical cooperation is bound to continue, future work can never be a case of simply marking time, especially given global trends. He said that the content of project work must change substantially and that standards should also be raised, adding that projects with no discernable outputs will cease to exist. In the final analysis, he said, "There is no turning back on these reforms; if the TaiwanICDF doesn't strive to improve and we do a poor job of our assistance work, we'll be the ones left by the wayside."
Hits: 25171
Date:2011/8/17