News From Overseas
Team searches site for new milkfish culture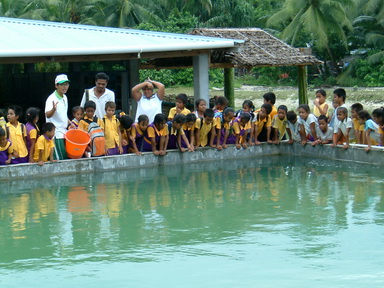 Source: Newstar
Publication date: 2011/05/27
Mission: Taiwan Technical Mission in the Republic of Kiribati
An investigating team from Tarawa has visiting Christmas Iasland to locate a suitable site to be used for future development of milkfish baitfish culture industry.
The team which comprised the minister of Fisheries and Marine Resource Development, Taberannang Timeon, his secretary Ribataake Awira and an aquaculture specialist from the Taiwan Technical Mission, Robert Chang.The fisheries and marine resources minister mentioned that under all conditions including market consumption, land for baitfish culture, rearing techniques and possible investors are matured for the time being.He said that the government's standpoint is clear and that assisting local residents in finding work opportunity is important to improve people's lives.He said that the deeply hopes that the Taiwan Technical Mission can still provide support in horticulture, livestock and aquaculture projects for the island.And Robert Chang said to a Newstar reporter: "Christmas Island has a lot of land area to develop baitfish culture, but the suitable location selected must have the basic requirements including size of land, transportation, culture environment, water quality and potential development as well".The team conducted its field investigation in Paris, Captain Cook Hotel lagoon area, Banana village lagoon area and the Bridges during its assignment.The team was assisted by two other staff from the fisheries ministry and Line & Phoenix Islands Development office.Mr. Chang further divulged that an ideal location for baitfish culture should not be far away from the port or within 30 minutes by car, and it should be free from any water pollution and waste coming into the lagoon.The investigating team has located a wide area of more than 1000 hectares near Captain Cook Hotel lagoon area. Christmas Island has more than 200 salt lakes, but as it stands they are not an ideal environment for baitfish culture as the lakes are too big to manage, Mr. Chang said.
"But on the other hand, they do have the potential for the production of food fish".Mr. Chang is compiling a field survey report which will be submitted to the fisheries ministry after its completion.
Hits: 11581
Date:2011/6/13