Special Reports
TaiwanICDF Overseas Volunteer Service: Diplomacy and Soft Power through Volunteerism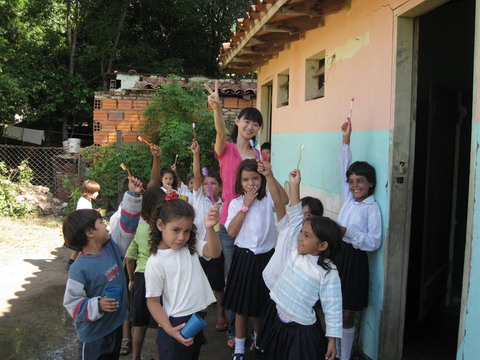 The purpose of the TaiwanICDF Overseas Volunteer Service is to improve diplomatic relations by encouraging the participation of Taiwan's general public in international cooperation and development affairs. As of February 2011, TaiwanICDF volunteers were serving in over 30 partner nations in Latin America, the Caribbean, Africa and Asia-Pacific, with a total of 491 Taiwanese citizens having worked with the organization since its first volunteer mission travelled to Swaziland in December 1996. Over those past 15 years, the participation of volunteers has significantly bolstered the TaiwanICDF's delivery of official development assistance.
Under the operations of the TaiwanICDF Overseas Volunteers Service, volunteers can offer their expertise to Taiwan's partner nations by working with agencies such as government departments, hospitals, schools or non-profit organizations, or by taking part in technical assistance or capacity building projects. In addition to supporting the development process, the service represents a chance for adventurous members of the Taiwanese public to expand their international vision and bond with people in nations with close ties to Taiwan.
Project Demand Drives Short-, Long-Term Service
The process of dispatching volunteers begins with a request from within one of the TaiwanICDF's partner countries and usually comes in to the local Taiwanese embassy or representative office. Once the TaiwanICDF has evaluated the feasibility of dispatching a volunteer, agreed this would represent the best course of action and accounted for any safety issues, contact is made with the originating agency, which could be a government agency, hospital, school or local non-profit organization. Personnel at the TaiwanICDF cooperate with these partners to formulate a schedule for the volunteer's period of service and agree to terms for the content of such service. The TaiwanICDF then recruits a suitable volunteer and organizes language instruction and professional training suited to their mission and destination. The entire process – starting from the receipt of a request, through recruitment and training, to the arrival of a volunteer at his or her designated location – takes approximately six months.
The duration of service for volunteers can be classified as short-term (less than one year) or long-term (less than two years) and is dictated by the demands of a particular project. To be initially eligible for selection, volunteers must be native citizens of the Republic of China (Taiwan), over 20 years old, and either hold a minimum of an undergraduate degree in a designated specialization or have five years of relevant work experience. Candidates must also show basic competence in English, Spanish, French or Portuguese. Applicants who are selected for further consideration are accepted into a special 12-hour training course and receive professional training tailored to the TaiwanICDF Overseas Volunteer Service.
Specifically, training includes overviews of the volunteer service, Taiwan's existing foreign aid policies and the TaiwanICDF's philosophy and core strategies; an introduction to development and international aid; a guide to international etiquette and lifestyles; lectures and advice on dealing with cultural conflicts, which are given by previous overseas volunteers; and an introduction to common illnesses that can be contracted from international travel. This last component is taught by medics who have worked on past medical missions; so, in addition to understanding special illnesses, their causes, transmission methods, prevention and self-examination, new volunteers also get to hear from those with experience in the field and gain a better understanding of the latest trends and issues in international aid development.
Reserve Program Brings Strength in Depth
Beginning in 2010, the TaiwanICDF started to recruit volunteers for an all-new, two-year reserve volunteer training program. By extending its recruitment process, the organization intends to broaden the diversity of its volunteer services and expand the scope of participation. In addition to widening the sources from which talent is recruited, the organization also extended volunteers' period of observation, which has now made it easier to identify those with much-needed specializations and those whose personalities would be particularly suited to project work and life overseas. The new, longer period of training also ensures that participants gain a deeper understanding and awareness of Taiwan's foreign aid policies and the specific mission of the TaiwanICDF.
Having completed their training and examinations, reserve volunteers are registered in the TaiwanICDF's newly established skills bank. Persons and proficiencies listed in this skills bank can then be cross-referenced against project plans drawn up during the early stages of future projects and more easily discussed with and communicated to associates in partner nations, Taiwanese embassies and Taiwan Technical Missions.
In addition to these changes, 2010 saw the TaiwanICDF conduct a thorough review of regulations governing volunteers, to ensure that the service is operated in accordance with government protocols. The organization also has plans to strengthen volunteer training further by establishing handover procedures between arriving and departing volunteers, implementing performance evaluations and promoting a greater degree of project-orientation within the operations of the volunteer corps.
Multiple Service to Multiple Sectors
Prior to the departure of any volunteer to any region of the world, a formal agreement is always signed between the TaiwanICDF and the volunteers's host nation, to ensure that authorities there will enforce domestic regulations protecting the safety and belongings of the volunteer. Once settled in their host country, TaiwanICDF volunteers work on a whole host of activities involving education and cultural exchange, ICT, sanitation and health care, agribusiness, environmental protection, urban and rural development, small- and medium-sized enterprise (SME) development and human resources development.
Volunteers drafted to take part in educational or cultural exchanges will usually be expected to teach general academic subjects such as English, Chinese, mathematics, physics, chemistry or economics; or cultural skills, such as folk dancing, handicrafts, cultural activities planning or heritage preservation.
Meanwhile, volunteers specializing in ICT are often posted to educational institutions or local ICT agencies and teach or offer training on network installation and communication systems, software applications, computer operations and maintenance, and computer graphics and web design.
For those specializing in public health and medicine, volunteer service can take in nursing, clinical visits and mobile medical service, public health projects or placements at local medical institutions or social welfare agencies.
In the agriculture and agribusiness sectors, draftees may be asked to promote domestic agriculture, provide agricultural consultations, assist production and marketing campaigns, launch or administer agricultural microloan schemes, assist communities to develop unique agricultural products, or develop agricultural training programs that improve life in rural communities and increase farmers' profits.
Volunteers who specialize in business are often assigned to provide basic consultation services to support management and SME service provision at SME development agencies or chambers of commerce, and may also assist at SME fairs and events.
Elsewhere, volunteers are also recruited to provide environmental protection services. This can include reducing and sorting waste, recycling resources, conducting ecological surveys or performing environmental conservation activities.
Finally, many volunteers provide vocational training services at local colleges or training institutions for practical skills such as plumbing, fabrication, automobile maintenance, cosmetics, clothing design, food processing and cookery.
Fruits of Outstanding Service
All told, 491 long- and short-term volunteers had been recruited to serve in 35 nations for the TaiwanICDF Overseas Volunteers Service by the end of December 2010.
In 2011, the TaiwanICDF plans to dispatch a further 40 long- and short-term volunteers. The organization will also respond to recent feedback by introducing a parallel training program for its long-term reserve volunteers, which will allow participants to gain a better understanding of international cooperation by undergoing an extended period of training.
Lin Shin-yi, now serving as a project assistant at the TaiwanICDF's headquarters in Taipei, is a former member of the TaiwanICDF Overseas Service Mission.
With an undergraduate degree in nursing, Shin-yi is a young lady with a passion to serve. Soon into her degree, she decided that her education would be put to best use by helping vulnerable citizens in other nations. By doing this, she could take advantage of wider opportunities in unfamiliar territory and test her ability to adapt and respond to foreign environments.During her third year at university, Shin-yi read about the recruitment of long-term overseas volunteers by the TaiwanICDF and signed herself up. After graduation, Shin-yi went through the TaiwanICDF's volunteer selection and training process and was then dispatched to Paraguay to assist government authorities to promote public health education.
During her two-year stay in Paraguay, Shin-yi worked as a public health and sanitation volunteer, specifically by serving with local health and education agencies on an anti-head lice campaign at local primary schools. The success of the project gave Shin-yi a great deal of pleasure and satisfaction.
Most TaiwanICDF volunteers serve in developing nations where the standard of living and environmental conditions can be considerably lower than they are accustomed to in Taiwan. Exposed to experiences that they could not have imagined in Taiwan, the key to becoming a successful volunteer lies in the ability to adapt to a different way of living and show willingness to overcome a constant series of challenges. The vast majority of returning volunteers have always said that contributing their knowledge in conditions where resources are scare has been a starting point for gaining a broader vision of the world. And so the rewards of volunteer service not only come from helping the needy and supporting personal growth with one's own expertise and skills, but also give rise to and stem from a simple philosophy: "It's better to give than to receive." Without doubt, the compassion and the heartfelt moments that volunteers experience during their service all over the world are forever imprinted upon their hearts.
Recruitment in 2011
The TaiwanICDF Overseas Volunteer Service has been operating now for 15 years. In 2010, the TaiwanICDF began a full-scale revision of its volunteer charter and amended procedures governing the establishment of the service. Management regulations were also revised to ensure that all relevant regulation involving the dispatch of volunteers overseas was up to date.

Hits: 27876
Date:2011/4/25