Special Reports
Taiwan Youth Overseas Service: Serving Taiwan by Serving Others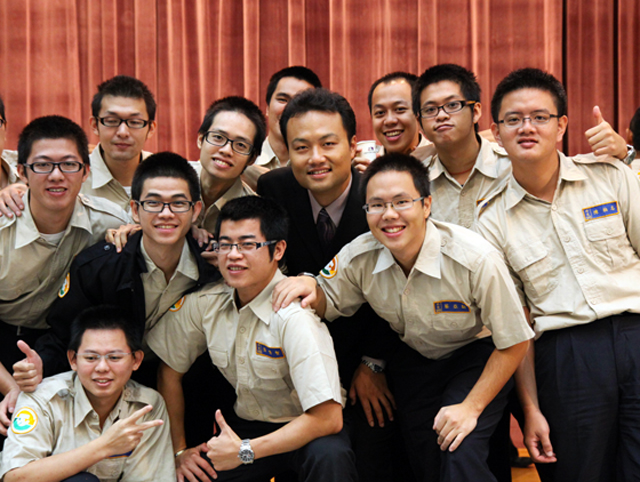 The TaiwanICDF has always supported the policies of its government by strengthening the training and management it provides to volunteers, who, in turn, continue to offer their services in ever-growing numbers around the world. In 2001, the TaiwanICDF Overseas Volunteers Service was augmented by the addition of a new kind of volunteer service, the Taiwan Youth Overseas Service. As part of these efforts, the TaiwanICDF would take on operational responsibility for a service that offered young men an alternative to mandatory military conscription, including professional training for and management of draftees.
The intervention of the TaiwanICDF and the Ministry of Foreign Affairs (MOFA) was a significant milestone in the history of Taiwan's military service. The inauguration of the service coincided with the United Nations' International Year of Volunteers and, much less happily but somewhat opportunely, with a series of natural disasters that had ravaged certain partner nations. As such, the introduction of the Taiwan Youth Overseas Service allowed Taiwan and the TaiwanICDF to accelerate delivery of international humanitarian aid.
New Forms of Diplomacy
More than 50 years have now passed since Taiwan first dispatched a team of agricultural experts to Vietnam in 1959 to promote international collaboration. Back in 2001, authorities at the TaiwanICDF were facing the challenge of replenishing their overseas technical teams with new talent. They suggested to MOFA that well-qualified military draftees be allowed to support overseas technical assistance as an alternative to performing active military service, by incorporating a substitute service into its scope of planning. The TaiwanICDF would then conduct a screening process to identify draftees whose qualifications matched those required by its overseas technical teams. In this way, young servicemen would have an opportunity to lend their expertise to Taiwan's partner nations, broaden their own international outlook and revitalize overseas missions with new energy.
Draftees in the first group were chosen for specializations that would promote overseas technical cooperation, including skills in agriculture, hydraulic engineering, medicine, business and trade, and computer maintenance. A quota for the first group was originally set at 35 members, but in light of an overwhelming response and applications, numbers were later increased to 40. Then, after a series of stringent screening and selection procedures, 36 servicemen officially completed their pre-mission training and became Taiwan's next generation of young diplomats.
Professional Training, Fluent Communication
MOFA continues to entrust the task of planning and implementing professional training for servicemen to the TaiwanICDF. After completing their basic military training, draftees attend a series of professional training courses and receive foreign language instruction lasting 8-12 weeks. Very recently, this period has been reduced to six weeks to account for the shortened period of overall service now expected of newer recruits. Training in English, Spanish, French or Portuguese, as appropriate, is designed to strengthen draftees' proficiency in foreign languages and communication abilities, while the curricula of other courses focus primarily on subjects such as diplomacy and international cooperation. Training related to the specific professional requirements of overseas technical and medical missions is also provided.
Draftee Wu Chao-hui was stationed with the Taiwan Technical Mission in Nicaragua in 2006. While there, he posted a brief account on the TaiwanICDF's website, A Chance Occasion with Definite Rewards, which described his thoughts while working as a volunteer interpreter with a Feed the Children (FTC) mobile medical team. He wrote:"If I hadn't signed up for alternative diplomatic service, I wouldn't have had the opportunity to go through two months of Spanish training arranged by the TaiwanICDF. Without the training to foster my basic competence in Spanish, I wouldn't have had the opportunity to be a part of the FTC humanitarian rescue initiative as an administrative draftee under Taiwan's Guatemala technical team. The experience has helped me broaden my thoughts and vision, and taught me to see the world from more than just the perspective of someone from a developed nation."
As Chao-hui's comments illustrate, it does not always take the direct involvement of MOFA or the Taiwanese government to achieve positive results through participation in international affairs. Very often, the involvement of Taiwanese citizens in the events of the international community is a feasible and effective alternative — an approach that not only allows Taiwan to play a greater role on the international stage, but also encourages a more active means of interaction between nations seeking to cooperate in international affairs and foster new ties. Indeed, given Taiwan's unique diplomatic circumstances, such exposure can actually allow Taiwan to reach further and broaden friendships more widely than the government might otherwise be able to achieve on its own.
Toward a Second Decade of Excellence
A decade after its inception in 2001, the Taiwan Youth Overseas Service is still going strong, with a total of 710 draftees having been recruited to serve their country. Most recently, 92 draftees reported for duty in August 2010 as part of the tenth group of servicemen, and left Taiwan to serve in various nations in Latin America, the Caribbean, Africa and Asia-Pacific at the beginning of November. Judging by reports received, their expertise in agriculture, horticulture, medicine, ICT, animal husbandry, agribusiness marketing and other specialties is once again proving to be an effective complement to Taiwan's seasoned team of permanent overseas technicians.
Recruitment in 2011
For 2011, MOFA plans to recruit 136 new servicemen with specializations in agriculture (94 draftees with backgrounds in agriculture, horticulture, agricultural technology, aquaculture, animal husbandry and veterinary sciences), medicine (18 draftees with backgrounds in medicine, dentistry, medical examination, medical engineering and public health and sanitation), ICT and agribusiness marketing (22 draftees) and other skills (two draftees). Starting from this year, potential recruits who already hold recognized certification showing high proficiency in English, or those with expertise and experience in foreign-language environments, will be granted priority.
Furthermore, staff at the TaiwanICDF are now looking to create a reserve pool of talent through which Taiwanese authorities can continue to draw on the expertise of servicemen. Following their discharge from the military, draftees who showed outstanding performance and conduct during their original terms of service will be given priority support to sit the examinations that are required to gain certification as regular technicians. Alternatively, they can also sign up for the TaiwanICDF's own Elite Draftee Program and, after completing the requisite workshops and training, become official members of the organization's overseas technical teams.
Hits: 23831
Date:2011/4/25