Special Reports
TaiwanICDF Working with EBRD for Greener Energy Solutions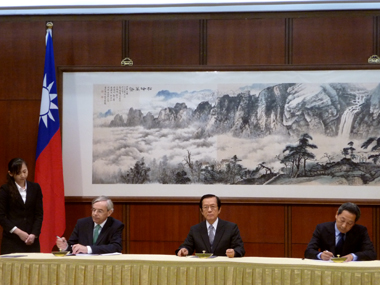 With climate change becoming a major threat to the survival of mankind, the promotion of sustainable development has become a critical mission for governments around the world.
As a responsible member of the international community, the Taiwanese government has responded to the issue by making energy conservation and carbon reduction one of its key policies. In a White Paper on Foreign Aid Policy published by the Ministry of Foreign Affairs in 2009, support for environmentally sustainable development was listed as one of the key objectives for Taiwan's official development assistance throughout this decade and beyond.
By drawing on Taiwan's comparative advantages in eco-friendly technologies, the TaiwanICDF aims to assist its partner nations to develop in an environmentally sustainable manner. However, the sheer scale of change required for such development means that the organization can often gain the most leverage from its limited resources by working with likeminded international organizations.
In 2009, this philosophy led TaiwanICDF staff to initiate contact with the European Bank of Reconstruction and Development (EBRD), to negotiate cooperative measures on green energy with colleagues at the bank's Department of Municipal and Environmental Infrastructure.
This new round of discussion came on the back of the EBRD's Sustainable Energy Initiative (SEI), which the bank had launched during its 14th annual meeting in 2006. The SEI was created to pool the strengths of developed nations, including Taiwan, and assists the EBRD's countries of operation to transition to energy efficiency by offering technological solutions and low-interest loans.
Recipients of EBRD aid include nations in some of the world's fastest-developing regions: Central Europe, Eastern Europe and Central Asia. According to some estimates, the next 20 years will see demand for energy in these regions rise by between 60 percent and 80 percent.
Without further support to nations in these regions, inefficient energy use might otherwise lower market competitiveness and drive environmental degradation. Furthermore, the histories of many such nations have involved planned economies, leaving them as yet remain unable to accurately manage the costs of supply and demand for energy prices. Injections of funding and technical assistance are therefore required to support their plans to conserve energy. These issues represent just some of the major obstacles that the EBRD has to overcome to maintain the pace of development.
This year marks the twentieth anniversary of the inauguration of the EBRD. It was also 20 years ago that Taiwan first established its partnership with the bank. As a gesture to acknowledge Taiwan's active, long-term support to nations transitioning toward market economies, and its efforts to promote sustainable energy by supporting collaborative, multilateral development frameworks, EBRD President Thomas Mirow made his first visit to Taipei recently. During his time in Taipei, President Mirow gave a speech to Taiwanese authorities that offered a European perspective on achieving stable economic growth in developing nations. On April 6, 2011, President Mirow also signed an MOU with TaiwanICDF Secretary General Tao Wen-lung to initiate a new Green Energy Special Fund (GESF) between the two organizations.
The GESF, financed with US$80 million from the TaiwanICDF, is scheduled to operate for ten years, with preferred solutions to be pursued including photovoltaic power generation and LED street lighting and traffic signals. The EBRD will launch subsidiary financing programs for nations that the TaiwanICDF has identified as priority cases for each year and these nations will then receive assistance as required to reduce wasted energy and boost energy efficiency.

Hits: 22285
Date:2011/4/20