Press Releases
Taiwan's First Innovation Accelerator for International Aid: Impact Frontier Lab Is Officially Launched!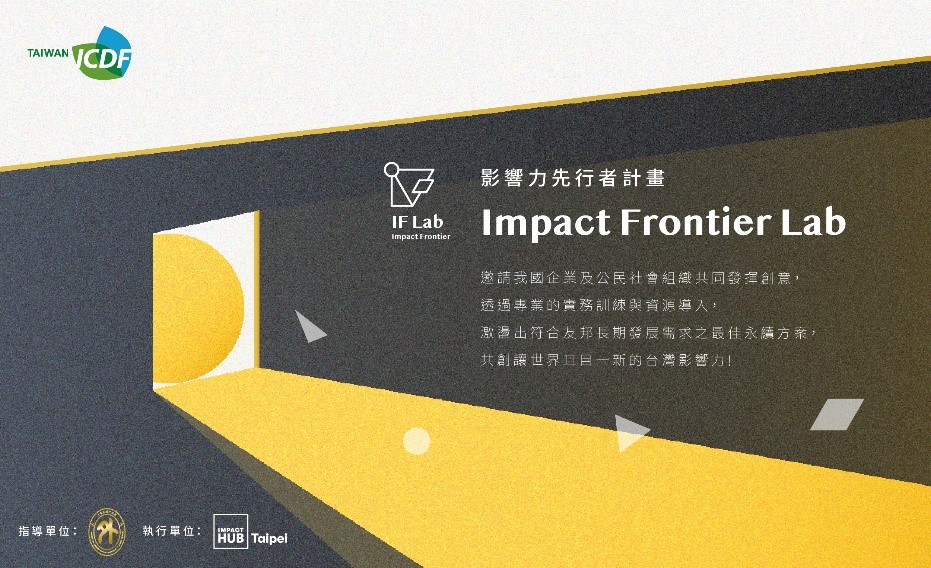 The International Cooperation and Development Fund (TaiwanICDF) has always been a critical facilitator for Taiwan's partner countries to pursue sustainable development. The TaiwanICDF has linked diverse resources both domestically and internationally through the Public-Private-People Partnership strategy. Impact Frontier Lab (IF Lab), initiated this year, is the first innovation accelerator for international aid. During the press launch on October 26, in attendance were Vice Minister of Foreign Affairs Alexander Tah-Ray Yui, St. Christopher and Nevis Ambassador Jasmine Elise Huggins, and five ambassadors of Taiwan's partner countries in Latin America and the Caribbean. The TaiwanICDF highlighted that we can light the way with tenderness and warmth for our ally countries with the core value of people-centered international aid, and demonstrate to the world that "Taiwan Can Help, Taiwan Is Helping!"
Responding to the four major demand areas of innovation, both Vice Minister Yui and H.E. Ambassador Huggins emphasized the importance of sustainable economic development, technology in education, climate change and sustainable environment, and agriculture and rural development. Vice Minister Yui said, "MOFA and the TaiwanICDF have continued working on innovation and creativity in recent years, as well as using Taiwan's advantages and synergizing efforts from the private sector to expand the scope of international aid and showcase Taiwan's contribution to global society." In addition, H.E. Ambassador Huggins said, "It is an exciting project which can encourage more innovative ideas and opportunities." She also emphasized that the crisis is a turning point, especially in the post-pandemic era. As a result, they invited companies, civil society and non-governmental organizations to propose innovative solutions before Nov. 12, 2021 to light the way for Taiwan's allies in Latin America and the Caribbean together with the TaiwanICDF beyond COVID-19."Partnership for Progress and Sustainable Development" is the driving force of innovation and progress in the TaiwanICDF. To link Taiwanese enterprises and civil society organizations to the global society and create impacts, the TaiwanICDF has been using creative thinking to build new international cooperation models. TaiwanICDF Secretary General Amb. Timothy T. Y. Hsiang shared the path to establishing public-private partnerships in the organization, and elaborated our different roles advancing from an aid practitioner to linking resources. The TaiwanICDF is currently even more proactively responding to challenges by presiding over workshops, arranging global co-creation laboratories, and providing international expert guidelines. The TaiwanICDF will be counseling and accompanying domestic companies and organizations to make action for development, promote cooperation for sustainability, and maximize impacts with limited resources. Through this competition, the TaiwanICDF will be able to identify potential partners for development and provide up to US$200,000 as the matching fund for equal value of inputs from the winners. This Taiwan Model will be constructed as the new normal for international aid and, hopefully, bring positive impacts with innovative solutions.Impact Frontier Lab is now calling for submissions!
Application period-from now until November 12 (Fri) at 23:59 pm
For more details of the plan, please visit the official website:
https://iflab.tw/
Hits: 192
Date:2021/11/12