Press Releases
The TaiwanICDF Introduces an Online Piggery Management System in Eswatini to Assist Pig Industry Development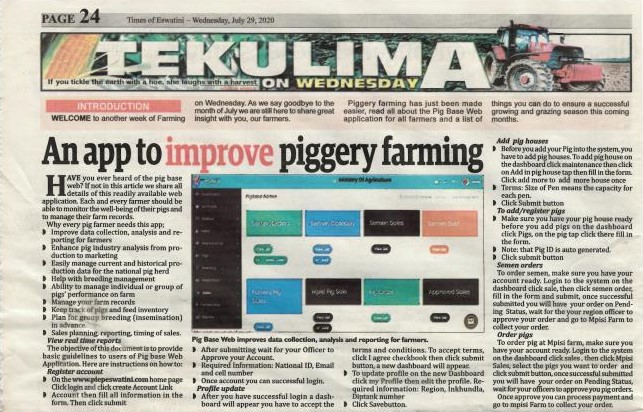 The International Cooperation and Development Fund (TaiwanICDF) is assisting the development of the pig industry in Eswatini, Taiwan's African ally, to reduce pork importation, which is currently more than 200 metric tons per year. In addition to providing technical assistance, the TaiwanICDF has introduced the first online piggery management system in Eswatini. Farmers only need to upload their piggery data on their mobile phones to the cloud, and the computing system can help improve the efficiency of management and increase the appeal of joining the pig industry for young farmers.
The management of traditional pig farms is cumbersome, with all the data of each pig's growth, breeding performance, feed consumption, usages of vaccine and medication, etc., needing to be recorded manually. Data management is time-consuming and laborious, and managing large amounts of data is even more difficult for small and medium-sized pig farmers, causing most farmers to miss the importance of piggery production records. This leads to missed opportunities for optimal pig mating periods and a decrease in profitability. With the TaiwanICDF's implementation of the online piggery management system, pig farmers in Eswatini now have a new, advanced, and time-saving option.The system developed by Taiwan Technical Mission in Eswatini is called the Pigbase Piggery Management System. Farmers can download the Pigbase application from the Google Play store to their mobile phones or use the website version(
https://www.piepeswatini.com/
) to easily add their pig farm data, manage farm production records, plan individual pig or group feeding management, and receive reminders to arrange sow breeding, piglet weaning, and nursery pig replacement, among others. In addition to improving the efficiency of pig farm management, this tool also reduces the error rate of manual data logging.Furthermore, Pigbase can automatically calculate the best time for farmers to grow pigs for slaughter, publishes the information of pigs for sale on the system information bar, and provides a platform to bridge pork dealers and farmers to increase the chances of trading between buyers and sellers. This application helps farmers plan pig breeding schedules in advance based on market demand, creating greater marginal benefits. By automatically collecting and analyzing the pig industry data, the system allows farmers to fully grasp the current status of the pig industry and potential pork production capacity, and provides an important point of reference for the Ministry of Agriculture of Eswatini for industrial policy planning, altogether enhancing the development of the smart pig industry in Eswatini.
Hits: 2007
Date:2020/8/27