Latest News
Co-Director of Nicaraguan Institute of Tourism Visits the TaiwanICDF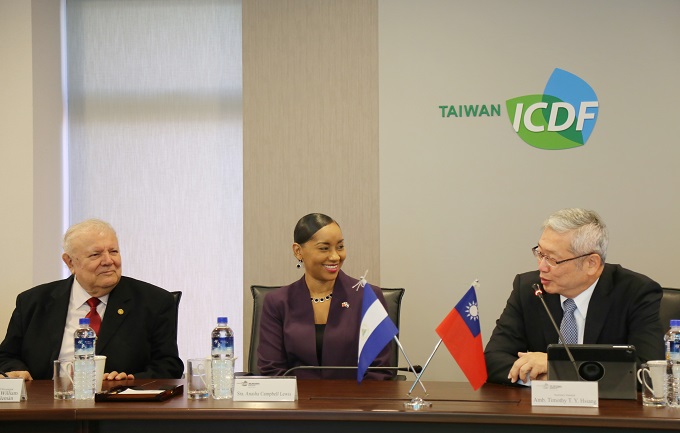 Co-Director of Nicaraguan Institute of Tourism Mrs. Anasha Campbell Lewis visited the International Cooperation and Development Fund (TaiwanICDF) on January 19, 2019.
TaiwanICDF Secretary General Amb. Timothy T.Y. Hsiang warmly welcomed the honorable guests. They exchanged views on the TaiwanICDF's cooperation projects in Nicaragua.
The TaiwanICDF's ongoing projects in the country include the 2019 Healthcare Personnel Training Program, Bamboo Cultivation and Handicraft Production Efficiency Enhancement Project, CABEI-TaiwanICDF Fund for Consulting Service, Common Bean Research, Development and Production Extension Project, Overseas Professional Mandarin Teaching Project, Plantain Development Project, Strengthening of the System for the Prevention and Treatment of Chronic Kidney Disease (CKD) Project, Rice Seed Research, Development and Production Extension Project, Specialized Financial Intermediary Development Fund— Subproject 6 Próspero Microfinanzas Fund, Specialized Financial Intermediary Development Fund—Subproject 5 Support for Access to Financial Services for Mini-markets (Pulperias), Microenterprises and Small Businesses, TaiwanICDF TVET Technical Assistance Fund (TA Fund), and TaiwanICDF-CABEI Technological and Vocational Education and Training Student Loan Fund. Under the scheme of the Taiwan Youth Overseas Service program, the TaiwanICDF also dispatches servicemen to assist with the implementation of projects.
To date, a total of 217 participants from Nicaragua have received training from the TaiwanICDF's Professional Workshops and a total of 166 students from the country have received International Higher Education Scholarships and studied in Taiwan.


Hits: 7923
Date:2019/1/19