Latest News
TaiwanICDF and Mercy Corps Complete Cooperation on Well Rehabilitation in Host Communities Project in Northern Jordan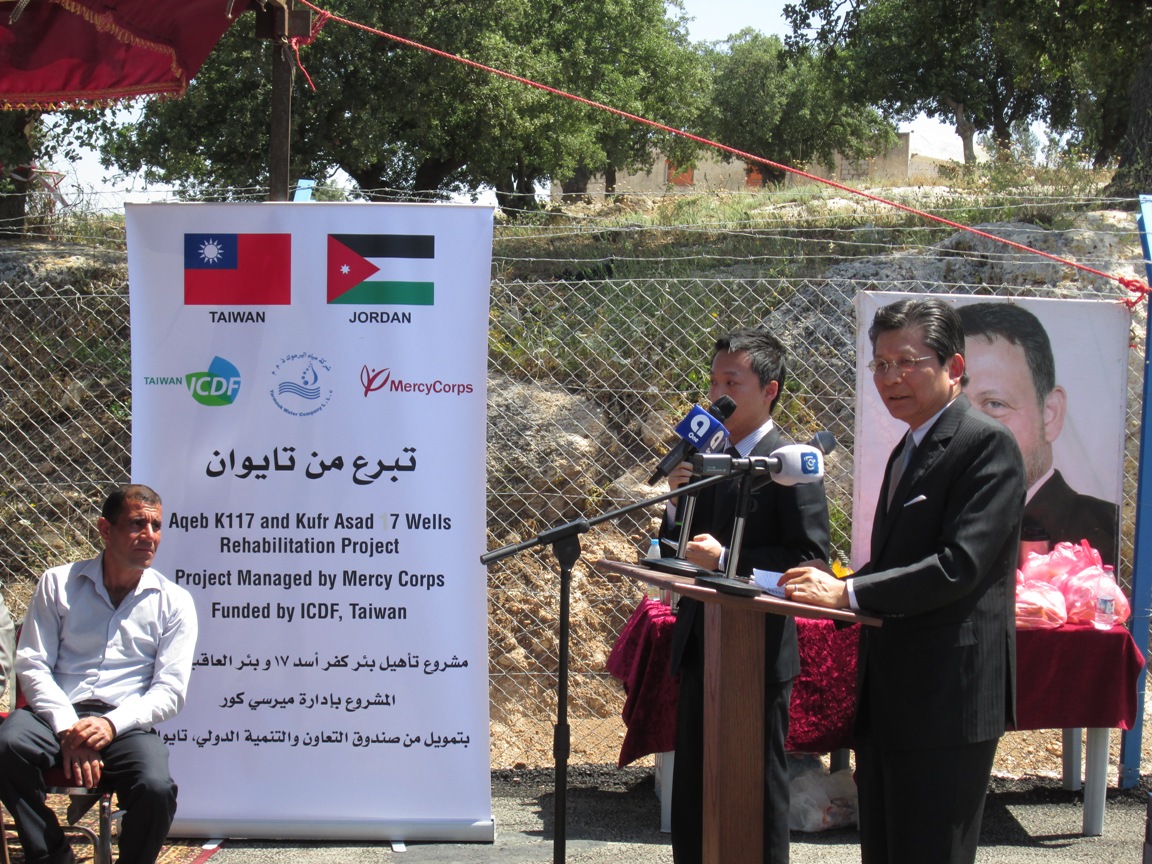 A completion ceremony for a well rehabilitated as part of the Well Rehabilitation in Host Communities Project in Northern Jordan carried out by the TaiwanICDF and Mercy Corps took place on May 18. Now fully functional, the well will be able to provide more than 50 percent more water than before, supplying some 43,500 people with safe water every day, and enhancing local public health and safety and basic living standards.
Together pressing the button to commence the operation of the well's pump system, the attendees at the completion ceremony in Kufr Asad in Jordan's Irbid governorate included TaiwanICDF Secretary General Weber V.B. Shih; H.E. Matthew S. Lee, Taiwan's representative to Jordan; H.E. Dr. Hazem Al Naser, Jordan's minister of water and irrigation; Ali Zreikat, vice governor of Irbid governorate; and Robert Maroni, Mercy Corps' country director for Jordan.
Speaking at the ceremony, Secretary General Shih explained that safe drinking water is a basic need for human survival, and, noting that Jordan is one of the world's most vulnerable countries in terms of water resources, said that an influx of refugees into the country had been placing an even greater pressure upon such resources since the outbreak of civil war in Syria. With the Republic of China (Taiwan) a provider of humanitarian assistance, he said, the TaiwanICDF had been cooperating with Mercy Corps, a long-term cooperation partner, and Jordan's Ministry of Water and Irrigation in carrying out this Well Rehabilitation in Host Communities Project in Northern Jordan, to provide safe drinking water to Jordanian citizens and refugees alike. In addition to thanking the project's cooperating units for their efforts, Secretary General Shih reserved particular thanks for the support of David Y.L. Lin, who serves concurrently as Taiwan's minister of foreign affairs and chairman of the TaiwanICDF, as well as expressing his appreciation to Representative Lee for his efforts in facilitating the smooth inception of the project.
In addition to upgrading basic water safety for Syrian refugees and local Jordanians, the Well Rehabilitation in Host Communities Project in Northern Jordan has also highlighted Taiwan's international aid efforts on the world stage, further enhancing the country's international visibility. Further information on the project is available on the TaiwanICDF website:Well Rehabilitation in Host Communities (Northern Jordan)
Hits: 13763
Date:2015/5/21