Special Reports
Enhancing the Effectiveness of Volunteer Services:TaiwanICDF Holds First Sequence of Training for Reserve Volunteer Service Coordinators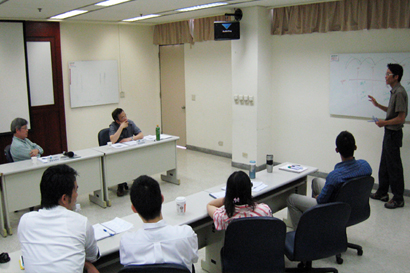 It's July 6, and a sultry midsummer heat has long enveloped the whole block, where six twenty-somethings, men and women, formally dressed, are filing into a room on the fourth floor of Taipei's Tienmu International Convention Center.
The atmosphere is tight. Facing a panel of three judges, these young people are pulling out all the stops for their final presentations.
On this, the final day of a ten-day course, when you step up to the podium and get on stage, it's more than a matter of just checking off what you've learned. This appraisal is a chance for someone to win — one last chance to gain some credit.
Actually, a few months ago, the six had already been vetted for qualifications, followed by further written and oral tests, where they stood out from over 100 other applicants.
Then there was a second round of intensive training where their performance was rated again. Now, through a combination of the projects they put forward, as well as experience, character and ability, the group will be whittled down to the two most suitable candidates.
Don't worry; this isn't "America's Next Top Model" — although the competition is indeed a lively one. It's all because the TaiwanICDF is enhancing its TaiwanICDF Overseas Volunteer Service and associated operations that this first sequence of training for reserve volunteer service coordinators is taking place.
So what exactly is a volunteer services coordinator? What's the importance of this role? And why do they need reserve training?
Managing Volunteers, Developing Projects
Looking back at the history of the TaiwanICDF's volunteer service, since 1996 the organization has posted more than 400 volunteers to more than 30 nations, where their specialized contributions have ranged – at different times, in different places – from agriculture and education through to business and health care, as well as ICT, which is a particularly popular choice. Throughout these past 16 years, volunteers have completed a vast array of short-term assignments.
The TaiwanICDF has been implementing a host of reforms to its operations in the past few years, resulting in this first round of recruitment for volunteer service coordinators. And this presents one of the key moments for enhancing the effectiveness of the organization's volunteer operations in the eyes of Clifford Li, director of the organization's Humanitarian Assistance Department.
Mr. Li explains that in order to enhance volunteer management, the TaiwanICDF has created an official role for volunteer services coordinators to oversee volunteers' pastoral care, which was previously dealt with by overseas mission leaders, embassy staff or other volunteers.
Working directly for the TaiwanICDF, these volunteer services coordinators will be familiar with the organization's resources and act as volunteers' closest contacts, so that any problems can be handled and dealt with in the shortest possible time.
Secondly, citing the U.S. Peace Corps and the Japan International Cooperation Alliance's volunteer services as examples, Mr. Li says that with the rising acceptance of volunteer services, international organizations are stressing the need to turn from recruiting only professional volunteers to recruiting volunteers from the general population, by lowering the threshold for professional recruitment — first focusing on expanding the pool of volunteers and then providing professional training to ensure that such volunteers meet local demand. This approach, he says, is enabling more and more people to fulfill their dream of becoming volunteers.
Mr. Li says that changes to the TaiwanICDF's own volunteer service are moving it in this direction, to improve its professional emphasis, because sometimes it's not always possible to provide services that meet a partner country's needs. Equally, there may be an imbalance between the supply and demand for volunteers whenever the domestic economy improves.
"When you lower the threshold for professional volunteers, the number of recruits increases," he explains. "The question of how to develop a service that meets partners' needs while also allowing volunteers to contribute to projects is becoming more and more pressing. This rather heavy responsibility will be one of the challenges facing our volunteer services coordinators!"
With such high hopes riding on this role, Mr. Li explains that the coordinators will be stationed overseas as part of long-term assignments. Becoming familiar with local conditions will not only provide coordinators with the initiative to explore and plan for new aspects of the volunteer program, he says, but also provide a bridge for communication.
Reserve Training Based on Project Management
The role played by volunteer services coordinators will be a strenuous one, so the TaiwanICDF has designed its training program with a great deal of care.
Running from late June to early July, the 10-day course is compact. In addition to focusing on foreign aid policy and practice, and providing a condensed project management course, there are also modules on accounting management, budgeting and cost-benefit analysis, the project cycle, volunteer counseling, cross-cultural issues, team building and partnership relations, leading students to exclaim on more than one occasion, "We've learned more in ten days than we did at university or grad school. It's more exciting and practical."
Each of the six participants has their own hidden talents just waiting to be discovered. One worked as a legislative assistant and already has many years of volunteer experience; another has already worked with the TaiwanICDF as a long-term volunteer and project assistant. Another is a research assistant at a university and one is a student of Latin American studies. There's also a student with a master's in social development research and plenty of experience in wildlife and conservation, and a student with a background in nursing. It's these kinds of details that make classroom discussion all the more diverse.
So why is it so important for volunteer services coordinators to take courses on project management?
Mr. Li says that in order to promote transformation and changes to the TaiwanICDF's technical cooperation operations, new projects will all be taking a results-oriented approach to project management. He explains that as members of the TaiwanICDF, volunteer services coordinators will need to possess the core expertise involved in promoting the project cycle and project management: "Providing basic project management courses allows this vital new force in our operations to implement projects and deal with communication and coordination — to deal with other stakeholders using a range of concepts and language. Before sending them overseas, we will also make other arrangements for our participants, so that they can become familiar with the way that we operate and work with other colleagues and departments."
Once they graduate from the program, these six participants will be grouped according to their English or Spanish skills, as well as by their performance during training, to determine the sequence of assignments made to various partner countries.
Among these assignments, two vacancies have opened up for coordinators in St. Lucia, an island in the eastern Caribbean; and Panama, the most southerly country in the Central American region. These two locations are set to form bases for wider volunteering efforts in the Atlantic and the Pacific. The two participants who receive the highest scores in the training program will be selected for these priority assignments, while the remaining participants will be considered reserve candidates.
And as the training program draws to a close, the last word goes to Mr. Li: "We hope that this new force can embrace enthusiasm and bring in a new atmosphere to the TaiwanICDF Overseas Volunteer Service, helping Taiwan to plant the seeds of hope in every corner of the world."
Hits: 25112
Date:2012/8/1