Press Releases
TaiwanICDF shares experience of assisting Small Island Developing States to establish national early warning system at UN Climate Action Summit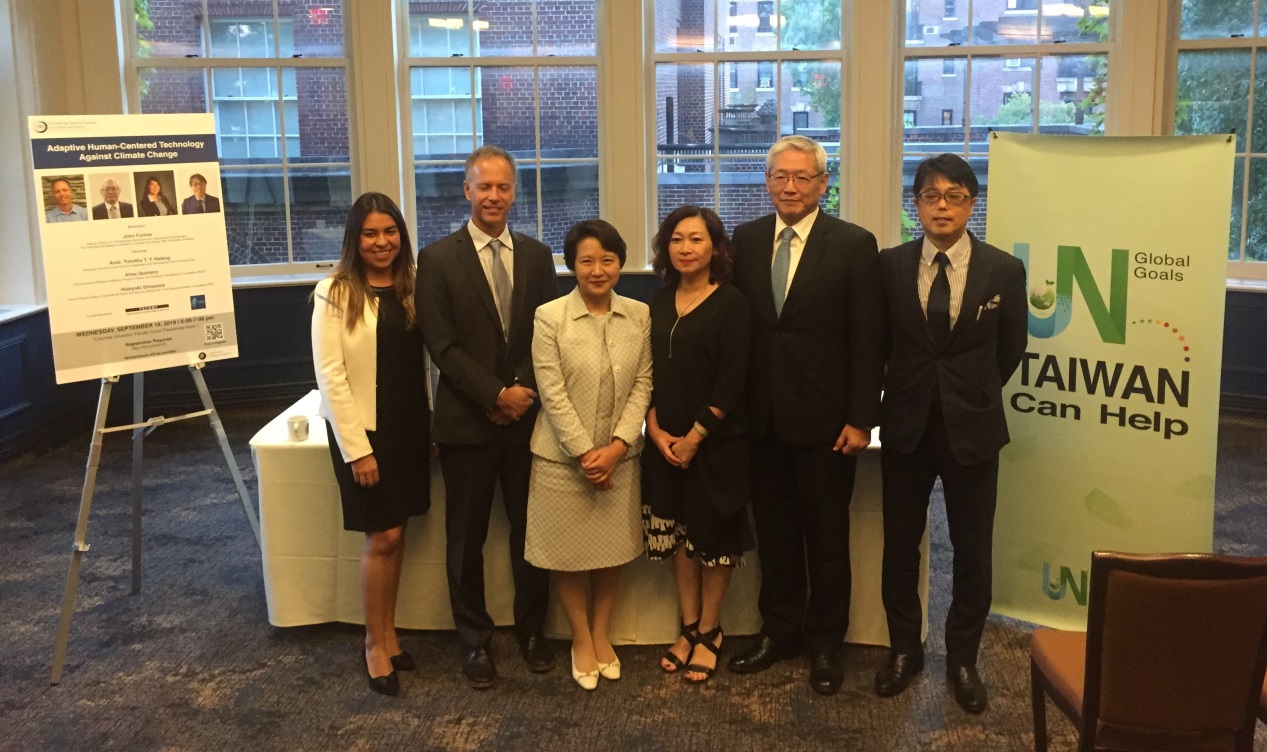 One of the important topics of the UN Climate Action Summit 2019 is resilience and adaptation to climate impacts. Frequent extreme weather events indicate that global warming is intensifying. The overall development of countries will depend on whether the economy, society and environment are resilient enough to respond to the impact of climate change.
During the UN global summit week, Taipei Economic and Cultural Office in New York partnered with the International Research Institute for Climate Change and Society, Columbia University (IRI) and the Sasakawa Peace Foundation (SPF) to host the seminar "Adaptive Human-Centered Technology against Climate Change". In this seminar, speakers shared their experiences with the audience on using cutting-edge technology to assist developing countries to tackle challenges brought about by climate change. Development agencies from across the world exchanged their experiences and ideas on the topic, discussing how the process of technology transfer should be integrated with an understanding of the beneficiaries' social and cultural facets in order for the technology transfer to benefit the people.  
The Secretary General of the International Cooperation and Development Fund (TaiwanICDF), Amb. Timothy T. Y. Hsiang, told audiences that climate change is not only an environmental issue, but also a social and economic one. Amb. Hsiang then presented the case of the St. Kitts and Nevis Enhancing Agricultural Adaptive Capacity to Climate Variability Project to explain how the TaiwanICDF persuaded farmers in St. Kitts and Nevis to adopt climate resilient cultivation practices. The project has developed a mobile phone application to deliver weather forecasts and recommendations on cultivation. With easy-to-use functions and an intuitive image interface, farmers find the application simple to navigate. They are able to anticipate changes in the weather and to adjust their cultivation of crops to the impacts of climate variability, and are better able to adapt to uncertainties in the future.The Sasakawa Peace Foundation is committed to ocean conservation. Mr. Hideyuki Shiozawa, a senior program officer of the SPF, joined in the panel and presented how the foundation assists Palau to develop eco-tourism to ensure the country's sustainable development, economic development, and preservation of natural resources. He introduced the latest environmental monitoring technology that record features of the landscape and seascape, as well as seasonal variations. The project has planned travel itineraries according to the island's seasonal and cultural attractions to attract travelers who are looking for different travel experiences. Meanwhile, Taiwan Technical Mission in Palau also participated in the project to promote eco-tourism development in Palau.Ms. Alma Quintero, Environment and Disaster Resilience Program Fellow of Pan American Development Foundation (PADD), presented a project conducted in cooperation with the TaiwanICDF. The project established a flood early warning system and flood control facility to prevent flooding in Santa Ignacio city and Santa Elena city. The project also integrated the country's national disaster prevention and relief system, which enables the Belizean government to shorten the lead time of disaster response and speed up disaster relief action.
Hits: 3452
Date:2019/9/26