Press Releases
Boosting health of children in South Pacific Islands through school farming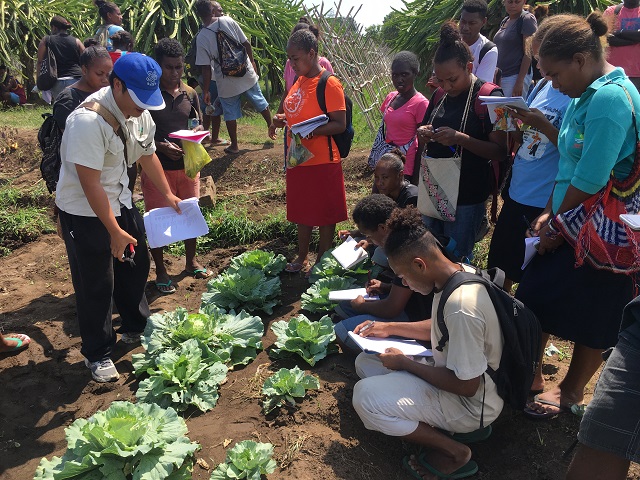 Geographical constraints and limited natural resources have restricted agricultural development in our partner countries in the South Pacific, resulting in dietary imbalances in the populations and a high prevalence of non-communicable diseases such as hypertension, diabetes and obesity. In view of this, International Cooperation and Development Fund (TaiwanICDF) resident technical missions are introducing concepts of nutrition to the next generation through school farming demonstration.
For instance, schools in Palau used to only provide tuberous crops and rice for students' meals, causing malnutrition and a higher incidence of NCDs in younger people. However, TaiwanICDF specialists successfully increased student consumption of fresh vegetable and fruits after they brought better farming skills to the faculties and students. As for the Solomon Islands, TaiwanICDF experts assisted in the development of school farms which not only provided more fresh produce to schools, but also allowed them to save on meal ingredient costs and to instead use their budgets on improving campus facilities. The specialists faced many challenges during the process of promoting healthy eating practices, including having to adapt their teaching methods and simplify the contents in a way that students could understand. Moreover, students often lost patience when they worked hard under the sun or rain; however, guided by the technical team and the school teachers, students found a sense of accomplishment from farming and developed curiosity in harvesting. In addition, students now recognize the importance of a healthy diet following efforts of the technical mission to promote healthy eating concepts, and are happy to try fruits and vegetables after the team improved the student meal recipes.
As a tactile sensory activity, farming can stimulate students to be more independent and bring nature into the education environment. The project brings the concept of farm to table to students and also creates a healthy and safe environment for our allies in the South Pacific Islands.
Hits: 7311
Date:2017/3/24