Press Releases
Workshop on Trade Promotion Focuses on Business Opportunities in Europe, Asia and ASEAN Countries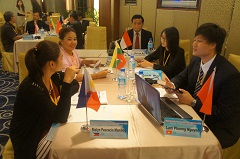 In order to expand communication channels between Taiwan and emerging markets, the International Development and Cooperation Fund (TaiwanICDF) is organizing the Workshop on Trade Promotion, which runs from May 26 to June 8, 2016. Joining the workshop this year are 23 participants from 13 countries throughout Central and Eastern Europe, West Asia and Southeast Asia. Participants include representatives from local chambers of commerce and trade departments of central government, and enterprise owners.
In recent years, Central and Eastern Europe, West Asia and Southeast Asia countries have played an essential role in the trends of global economic integration due to their rapid economic growth. By holding this workshop, Taiwan seeks to strengthen communication networks with these regions, which will further facilitate future cooperation. The workshop will also share with participants Taiwan's successful experience in international trade policy and infrastructure.
In addition to learning about such themes as international trade development, business opportunity development and trade facilitation, participants will also visit relevant government institutions including Bureau of Foreign Trade, Customs Administration, Free Trade Zone and Export Processing Zone. The combination of theoretical and practical aspects will provide participants with a comprehensive view on the subject matter.
Besides, to facilitate business cooperation, the workshop will include a business forum, wherein participants will have the opportunity to share their country's investment environment with Taiwan's chambers of commerce and small and medium enterprises that are interested in entering emerging markets.