Latest News
First VicePresident of the National Assembly of Burkina Faso Bénéwendé Sankara Visits TaiwanICDF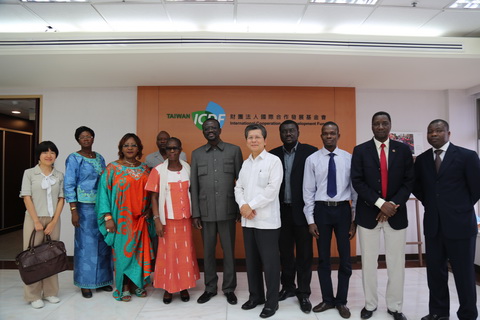 Bénéwendé Sankara, First VicePresident of the National Assembly of Burkina Faso and the president of the Union for Rebirth/Sankarist Movement (UNIR/MS) party, led a seven-member delegation to visit the International Cooperation and Development Fund (TaiwanICDF) on April 22, 2016.
TaiwanICDF Secretary General Amb. Weber V.B. Shih warmly welcomed the honorable guests and exchanged views with Mr. Sankara on the TaiwanICDF's cooperation projects in Burkina Faso.
The TaiwanICDF carries out various projects in the African nation, including the Consultancy Project for the Management of Hydraulic Systems and Rice Production in the Bagré Reclamation Area, and the ROC and Burkina Faso Medical Cooperartion Project. In addition, the TaiwanICDF recently launched a new project on Maternal and Newborn Health Improvement, which is expected to be implemented in April 2017.To date, a total of 378 participants from Burkina Faso received training from the TaiwanICDF's Professional Workshops, and a total of 47 students received International Higher Education Scholarships and studied in Taiwan.
Hits: 10542
Date:2016/4/22