Press Releases
TaiwanICDF, Mercy Corps Provide Chicken Feed, Safeguard Short-Term Food Security in Libya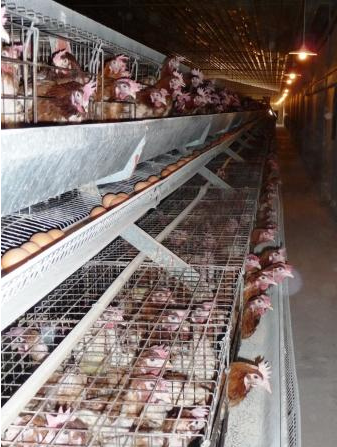 The International Cooperation and Development Fund (TaiwanICDF) and Mercy Corps have joined forces to alleviate a critical lack of chicken feed in Libya, where conflict has caused severe disruption to supply lines and threatened food security. Project funding comes from the organizations' joint Humanitarian Cooperation Fund, through which the TaiwanICDF will provide US$95,522 to support Mercy Corps' operations on the ground.
Chicken is one of the main staple foods for families in Libya; most families eat chicken 3-5 times per week. Due to recent conflict, however, the supply chain for chicken feed in western Libya has been disrupted, and to maintain their breeding stocks with the levels of feed that they currently have stockpiled, suppliers have been forced to cull chickens and destroy eggs that would otherwise have been viable for hatching.The problem is compounded by the fact that all chicken breeding farms in eastern Libya were previously government controlled, with all of their feed coming from government supply channels. These supply channels have since ceased to exist, and, due to decreasing supplies, the price of chicken for families has risen from 4.5 Libyan dinars/kg, pre-conflict, to its current price of 6-8 Libyan dinars/kg.Additionally, from the initial assessment of chicken supplies in Misrata, anecdotal evidence supports the view that chicken is very scarce there, with families who at one time ate chicken 4-7 times per week now unable to purchase it at all. Goht Sultan, one of the largest chicken suppliers in Libya, held 740 tons of frozen chicken in its stores in November 2010. As of mid-April, they were holding less than 7 tons in storage. The director, Dr. Tayeb, has been culling chickens and destroying eggs in order to maintain his breeding stock with the limited supply of feed available. The farm has enough chicken feed to last through May, 2011.
At Goht Sultan, the rate of disease in chickens has risen from 12-15 percent to 35 percent since feed shortages began. Should the farm lose all of its chickens, it would take a minimum of 19 months to be ready to begin selling chicken meat on the market again, which would represent a substantial long-term impact to the chicken market.
Although the development of a sustainable method of feed supply would be the most ideal solution, there is no time to develop this model without adversely affecting chicken farmers, who depend on subsidized chicks from breeders. The TaiwanICDF and Mercy Corps have therefore agreed that an immediate supply of chicken feed is required to alleviate short-term shortages.
The team will send trucks from Benghazi to Cairo, Egypt, to acquire and then deliver 125 tons of chicken feed to local chicken breeders in Libya. This will keep existing breeders healthy and provide the Transitional National Council with approximately four weeks of additional time to work with farmers on a sustainable solution, thereby avoiding lasting disruption to this crucial market.The project is being coordinated by Mercy Corps, a long-term partner of the TaiwanICDF, and an organization with many years' experience in dealing with humanitarian crises around the world.
The TaiwanICDF is the dedicated international development organization representing the government of the Republic of China (Taiwan). The organization supports long-term, sustainable development in its partner countries by offering assistance in four core areas: lending and investment, technical cooperation, human resource development, and humanitarian assistance.
Hits: 10910
Date:2011/6/22