Press Releases
Second book on Solomon Islands plant life published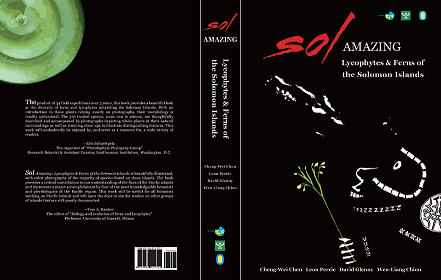 In order to assist the Solomon Islands investigate and conserve plant resources, the International Cooperation and Development Fund (TaiwanICDF) collaborated with National Museum of Natural Science (NMNS) and Dr. Cecilia Koo Botanic Conservation Center (KBCC) to carry out the Census and Classification of Plant Resources in the Solomon Islands project. This project was completed in June this year and the results have been compiled into a second illustrated collection, once again highlighting Taiwan's science and research capabilities.
Abundant in natural resources, the Solomon Islands is home to an estimated 7,000 or more species of vascular plants. However, the coverage of primary forest has gradually declined in recent years. Native species are under threat, and many face extinction. For this reason, Taiwan and the Solomon Islands joined forces to implement the Census and Classification of Plant Resources in the Solomon Islands project in July 2012. Training workshops, instruction on the collection of specimens and demonstration activities were provided to build the capacity of Solomon Islands personnel engaged in the conservation of plant resources and enhance their basic scientific knowledge. Conservation work was carried out in both the Solomon Islands and Taiwan.During project implementation, over 10,000 species of plants were collected, more than 40,000 sheets of specimens were produced, and three new species were found which were published in international journals. The first Chinese-English field guide to the nation's plants was published by the TaiwanICDF, NMNS and KBCC in 2016 and contained 153 families of lycophytes and ferns. The second book, published this year, focuses on ferns in different provinces of the Solomon Islands and includes nearly 111 genus and 370 species.
By publishing these two catalogs, the TaiwanICDF, NMNS and KBCC hope to raise awareness on biodiversity and plant conservation in the Solomon Islands, mitigate the rate of loss of native forest and disappearance of native species, and contribute to international environmental conservation.
Hits: 7192
Date:2017/8/29