Press Releases
Echoing the New Southbound Policy – the TaiwanICDF Holds Workshop on Women's Enterprises Start-up (Exclusive for ASEAN and South Asian Countries)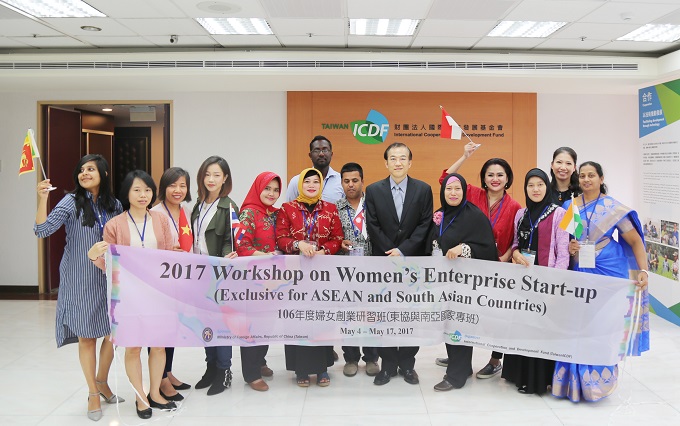 In support of the New Southbound Policy and to promote an integrated approach to capacity building in women's entrepreneurship, the International Cooperation and Development Fund (TaiwanICDF) will hold a Workshop on Women's Enterprises Start-up from May 4 to 17, 2017 to share Taiwan's experience in providing guidance to women entrepreneurs, in order to assist ASEAN and South Asian countries in nurturing women entrepreneurs and further boosting collaboration in the region.
The people-centered approach to the New Southbound Policy forms an important part of Taiwan's economic and trade strategy. Fostering and strengthening talent exchange between ASEAN and South Asian countries is critical to the cultivation of talent for regional economic development. Therefore, this year the TaiwanICDF will organize several workshops exclusive for ASEAN and South Asian Countries and invite professionals from key countries as participants to spur mutually beneficial exchange in human resources and bring into focus the New Southbound Policy. This workshop was also organized in response to the initiative of 2015 APEC Women and the Economy Forum, which emphasized e-learning platforms and an inclusive environment for women entrepreneurs, and invited experts in women's micro-enterprises start-up will address participants on entrepreneurship and start-up resources. The workshop will also share how Taiwan uses government strategies and private sector participation to promote gender equality in the workplace, gradually achieving the empowerment of women.
Furthermore, the seminar will introduce the services provided by the Phoenix Micro Start-up Programs and the Flying Geese Program, including an enterprise and capital matching program, financial counseling, and enterprise start-up loans.The workshop incorporates theoretical and practical application classes such as indoor lectures and visits to Kaohsiung City Government, Anewei Shop, XIE XIE tea and Green in Hand which are established by female entrepreneurs. Upon returning to their home countries, it is hoped that participants will be able to use the knowledge they acquired to help raise awareness and further develop women's entrepreneurship, as well as deepen talent exchange with their counterparts in the region, building up an international network and increasing business opportunities under the New Southbound Policy.
Hits: 8934
Date:2017/4/26