Press Releases
TaiwanICDF and CARE Bring Taiwanese Volunteers' Engagement in International Humanitarian Aid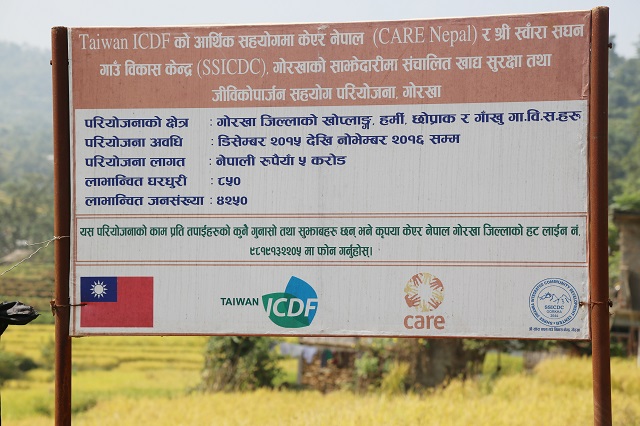 The International Cooperation and Development Fund (TaiwanICDF) and CARE Nepal commenced their first cooperative program—Gorkha Food Security and Livelihoods Support Program—in Nepal in December 2015. Given the outstanding outcome of the program, the second phase of the project, Gorkha Food Security and Livelihoods Enhancement Program, was initiated in December 2016. To further strengthen the collaboration, the TaiwanICDF and CARE International signed a Volunteer Dispatch Agreement this year. Under the agreement, the TaiwanICDF can recruit and dispatch Taiwanese volunteers with the relevant skills to assist in all future humanitarian projects jointly implemented by the two organizations globally.
As an example, for the one-year Gorkha Food Security and Livelihoods Enhancement Program, the TaiwanICDF will recruit one volunteer to serve in Nepal for three months to assist in project implementation, and prioritize applicants with a background in agricultural marketing. This agreement will not only provide Taiwanese volunteers with the opportunity to work and gain experience with a prestigious international non-governmental organization, but also obtain insight from the front line on the implementation of humanitarian assistance projects. Following this model, the TaiwanICDF could dispatch volunteers for all future cooperative projects of the two organizations according to the needs of the designated countries. Since 1996, Taiwanese volunteers have served with the TaiwanICDF Overseas Volunteers Service, offering assistance in various countries. In recent years, the TaiwanICDF has combined recruitment of project-based volunteers for international humanitarian assistance programs. This has provided Taiwanese people with the opportunity of being at the frontline of international humanitarian assistance work. On-site observations made by these volunteers have helped the TaiwanICDF assess project implementation outcomes, support project monitoring and control, and foster talent in international assistance in Taiwan. To date, a total of 683 volunteers have participated in the TaiwanICDF Overseas Volunteers Service.
Notes to editors:
About CARE
Founded in 1945, CARE International works around the globe to save lives, defeat poverty and achieve social justice. CARE puts women and girls in the centre because poverty cannot be overcome unless all people have equal rights and opportunities. Last year, CARE worked in 94 countries around the world to assist more than 80 million people improve basic health and education, fight hunger, increase access to clean water and sanitation, expand economic opportunity, confront climate change, and recover from disasters. To learn more, visit www.care-international.org.
Hits: 7797
Date:2017/4/10