Press Releases
Workshop on E-government Development shares Experiences with Partner Countries in Latin America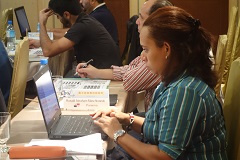 The International Cooperation and Development Fund (TaiwanICDF) is holding the Workshop on E-government Development, exclusive for Latin America, from May 25 to June 7, 2016, to introduce partner countries to e-government development in Taiwan. A total of 30 participants from 13 countries in the Latin American region have joined this workshop.
E-government has been considered an important strategy to enhance the effectiveness of government operations and national competitiveness since the 1990s. Taiwan has already been promoting e-government for 18 years and has now entered the fourth stage. Given that many of our Latin American allied and friendly countries are actively promoting e-governance at present, the TaiwanICDF has organized this particular workshop to share Taiwan's successful experiences in this field for their reference and use.
To further deepen participants' impression of Taiwan's experience in e-government development, the TaiwanICDF will invite experts of e-government from the industry, government and academia to provide participants with practical experience in the use of innovative approaches in different areas. As well, visits to National Archives Administration of National Development Council, Daan District Household Registration Office, Keelung Customs, Taipei City Government Department of Transportation, and other institutions will also be arranged to allow participants to see first-hand the actual operations of e-government in Taiwan.