Press Releases
Taiwan Technical Mission in Palau develops school meals for students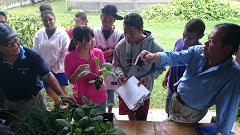 Since April 2016, International Cooperation and Development Fund (TaiwanICDF) Taiwan Technical Mission (TTM) in Palau has cooperated with the Ministry of Education in Palau through TaiwanICDF public health volunteers stationed in Palau to hold cooking training activities in school kitchens and develop healthy lunch recipes for students.
Malnutrition and obesity are widespread among the population of Palau. The development of agriculture has been hampered by climate change, and dependence on the Western diet and low intake of fresh vegetables have resulted in these health issues. According to the World Health Organization (WHO), Palau is ranked seven in the world with the highest obesity rate. This has prompted the Minister of Health Hon. Gregorio Ngirmang to regard obesity as a more severe threat to the survival of the nation than sea-level rise in Palau.
In order to promote a balanced diet, TTM in Palau has successfully developed fruit and vegetable cultivation techniques, assisted schools in Palau to establish farms, and provided technical guidance to produce the crops needed for school meals and build up farming capacity.
In addition, to encourage students' intake of fruit and vegetables, TaiwanICDF public health volunteers have actively promoted healthy eating and improved school meal recipes, engaging parents and teachers to participate in creating a healthy food environment. All of these efforts will serve to establish healthy eating habits and the sustainable production of local fruit and vegetables in the fragile island, eventually leading to a health improvement for Palau citizens.
Hits: 7574
Date:2016/5/26