Press Releases
TaiwanICDF assists Belize in Trade Facilitation through E-Government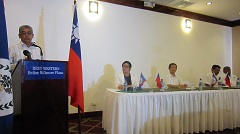 The System Launch Ceremony for the Fisheries and Forestry departments in our partner country, Belize, was held on April 6, 2016. This is the first major step in the integration of import and export trade-related activities of six Belize government departments. This development is a component of the ICT Project of Belize, which is a bilateral cooperation between the Taiwan International Cooperation Development Fund (Taiwan ICDF) and the Belize government.
The recent development of tourism, trade and industry has prompted the need to accelerate the country's overall development. However, most of the Belize government's operations remain in paper form, which results in low efficiency. Consequently, in 2012, the Taiwan ICDF received a request from the Belize government to launch the ICT Project of Belize to accelerate the country's existing trade-related activities and improve the efficiency of import and export licensing.
The ICT Project of Belize is establishing the Belize Licenses and Permits system (BELAPS), which will integrate the import and export procedures among the Forestry Department, Fisheries Department, Belize Bureau of Standards, Ministry of Agriculture, Belize Agricultural Health Authority (BAHA), and the Customs and Excise Department. This integration will enable the public to apply for and track the status of licenses online. This system will also allow respective officers to evaluate and verify such applications online.
During the System Launch Ceremony, the Deputy Prime Minister and Minister of Agriculture, Hon. Gaspar Vega, expressed his profound gratitude to the government of Taiwan and said that this achievement is an important milestone for Belize's e-government development. His comments were echoed by the Director of the Central Information and Technology Office, Ms. Michelle Longsworth, the Chief Officer of the Fisheries Department, Mrs. Wilbur Sabido, and the Deputy Director of the Forestry Department, Mr. Marcelo Windsor. This accomplishment reflects the strong relationship between Taiwan and Belize.
Hits: 7920
Date:2016/5/18