Press Releases
TaiwanICDF assists friendly ally in improving Pacu propagation and breeding techniques, as witnessed by the President of Paraguay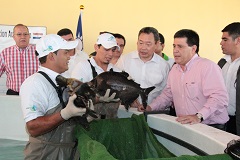 The opening ceremony and demonstration of the Pacu fingerling breeding laboratory was held on April 5, 2016. The laboratory was established as part of the Paraguay Pacu Fingerling Breeding and Cultivation Project, jointly implemented by the Taiwan International Cooperation and Development Fund (TaiwanICDF) and the Paraguayan government. The President of Paraguay, Horacio Cartes, attended the event and co-chaired the ribbon-cutting ceremony with the Ambassador of the Republic of China (Taiwan) to Paraguay, H.E. Alexander Tah- Ray Yui, highlighting the importance of the project to the country.
On the day of the opening ceremony, President Cartes came to witness the results of the project with the Senate Speaker, city mayor and a Ministers from Agriculture and Livestock, Tourism, Industry and Commerce, and Planning. President Cartes later posted on his official Facebook page, expressing his sincere gratitude to the Government of the Republic of China (Taiwan) for its support and assistance for the project, and his expectations to provide a better future for the people of Paraguay through similar projects.
The laboratory contains an automatic fish hatchery system, 12 circular tanks and cold-proof scaffolding, among other equipment. According to Susana Barúa, Director of Aquaculture, Ministry of Agriculture and Livestock, 30% of the production from the laboratory will be provided to poor farmers.
Minister of Agriculture and Livestock Juan Carlos Baruja emphasized the project's importance for Paraguay. Besides having a long-term impact on the country's aquaculture industry, the project also provides an alternative option for small-scale farmers in breeding pacu instead of tilapia.
The TaiwanICDF launched the project in November 2014 with the Paraguayan government, drawing on Taiwan's strengths and experience in aquaculture to introduce fish fry breeding, domestication and feed preparation techniques, successfully helping Paraguay to establish pacu fingerling breeding technologies. The project has successfully bred 800 000 fries and is anticipated to assist the country in meeting over 30 percent of its own production needs upon completion. The advanced technology introduced by our specialist will assist Paraguay in improving the production of pacu fingerling to reach 2.6 million fingerlings. The project will assist Paraguay in developing the pacu industry and securing its domestic consumer market and prices, which will improve farmers' profits.
Hits: 8206
Date:2016/4/29