Press Releases
TaiwanICDF Healthcare Personnel Training Program: First Round of Training for 2016 Launched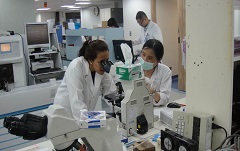 The TaiwanICDF will host the opening ceremony for the year's first round of training for its Healthcare Personnel Training Program on March 29, welcoming fourteen medical personnel from Nauru, Palau, Tuvalu, Kiribati, Papua New Guinea, Panama, El Salvador, St. Kitts and Nevis, Dominican Republic, Burkina Faso, and Nigeria before their placement at cooperating medical institutions for one to three months of specialist clinical training.
In addition to learning about the workings of Taiwan's health care system and improving their own professional abilities, upon returning home the program's participants will be able to apply their training as seed teachers, progressively transferring their medical know-how, skills and experience to local medical personnel, effectively upgrading local medical services. The participants attending this round of training will be hosted by ten cooperating units: Taichung Veterans General Hospital, Shin Kong Wu Ho-Su Memorial Hospital, Chung Shan Medical University Hospital, Mackay Memorial Hospital, Kaohsiung Veterans General Hospital, Taichung Hospital-Ministry of Health and Welfare, I-Da Hospital, Taipei Veterans General Hospital, Hualien Tzu Chi General Hospital, and National Taiwan University Hospital.
The TaiwanICDF has operated the Healthcare Personnel Training Program since 2005, to date bringing 332 medical personnel to Taiwan for training. In recent years, the principles governing the selection and recommendation of trainees have not only focused on partner countries' specialist medical needs, but also on medium- and long-term planning for the TaiwanICDF's public health and medical projects, enhancing the results of project implementation.
Hits: 7864
Date:2016/3/28