Press Releases
TaiwanICDF-supported Potter Shapes Salvadoran Folk Song into Artwork, Impressing El Salvador's First Lady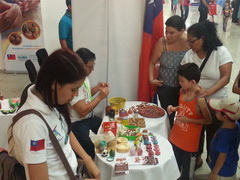 To motivate potters to improve the quality of their work as part of the One Town, One Product Project, a cooperative initiative between the TaiwanICDF and the government of El Salvador, the TaiwanICDF recently held its first OTOP Design Awards in El Salvador, introducing the Central American country to an event already popular in Taiwan. The competition's winning entry, entitled Torito Pinto, impressed El Salvador's first lady, Margarita Villalta de Sánchez, who was in attendance at the event.
Torito Pinto depicts El Salvador's unique local culture. Its creator, a Salvadoran potter, took his inspiration from a local folk song, producing his work using the pottery skills he had acquired from Taiwanese consultants.During the awards ceremony, held at El Salvador's Ministry of Economy on September 17, 2015, Taiwan's ambassador to El Salvador, H.E. Andrea Sing-ying Lee, presented Torito Pinto as a gift to El Salvador's first lady, Margarita Villalta de Sánchez. The first lady praised the piece's beauty and individuality, and later wrote to the Taiwanese embassy commending the accomplishments of the OTOP project.
Also as part of the project, in mid-October 2015 six Salvadoran potters will visit Taiwan for a three-month training program, which will cover the construction of pottery kilns, firing ceramic glazes, and product packaging. Through the training program, the TaiwanICDF hopes to assist the Salvadoran pottery industry in improving the quality of its products, as well as promote cultural exchange between Taiwan and El Salvador.
Hits: 9434
Date:2015/10/15