Information and Communications Technology
→ Project List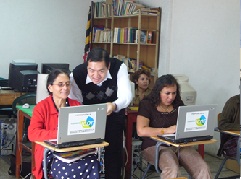 Global Challenges and Opportunities
The following challenges facing information and communications technology (ICT) are adapted from the United Nations Conference on Trade and Development's Information Economy Report 2010.
Poverty Alleviation and Pro-poor ICT
ICT can generate two benefits for the poor: Firstly, it can provide short-term benefits to poor people themselves, by providing instant access to up-to-date data (e.g. through the use of mobile technologies); and secondly, it can provide longer-term benefits by strengthening the capacity of public and private actors dedicated to improving the lives of such people. ICT requires that users have a certain amount of prerequisite knowledge and familiarity with modern technologies in order to benefit from its uses, so the need for corresponding training must always be taken into account.
SMEs, Entrepreneurship and E-commerce
ICT enhances the basic business communications and day-to-day activities that SMEs and entrepreneurs engage in. Specifically, ICT reduces the time and resources needed to search for information, and it reduces transaction costs and other operational costs by improving communications and logistics throughout the supply chain, thereby improving efficiency. Although SMEs and entrepreneurs in developing countries tend to do business only at a local or national level, the Internet also provides such actors with a relatively low-cost exchange and trading platform through which to promote their products and services.
ICT-related Public-private Partnerships (PPP)
PPPs involving private actors in the ICT sector can offer a "win-win" for all parties. The ICT sector is a highly specialized industry and its actors possess particular know-how that is often lacking in the public sector, especially in developing countries. By providing funding to ICT projects, the public sector can leverage such know-how, extending ICT services to sections of society that may be "ignored" by the private sector due to the potential lack of profit if such public funding were not otherwise available. This could mean, for example, deploying or extending ICT infrastructure into remote or rural areas.
Expanding and Upgrading Government Services
ICT provides the potential for governments to improve and widen communications with citizens, and to provide them with a better, wider range of services while also reducing the cost of such services by improving the efficiency with which they are delivered. Significant capacity-building measures such as training are needed whenever computerized/e-government systems are introduced into the public sector.
Taiwan's Strengths and Resources
As noted in the Information Economy Report discussed above, the impact of ICT, which assists people to escape from poverty and improves national governance and development, represents a real breakthrough. And because ICT breaks down the distance between regions, countries and individuals, it can provide a wide range of real-time information which can then be exchanged between actors, as well as improve management systems, transform service delivery and change trading patterns. It can even remove the spatial and temporal constraints involved in long-distance clinical consultations and diagnosis. By making the best use of the comparative advantages gained from Taiwan's development in this sector, we will be able to bring about critical changes in our partners by breaking through "traditional" modes of development.
Comprehensive Industrial Chain and Strong R&D Capabilities
Taiwan is a major actor in the design and manufacturing of ICT products and possesses outstanding research and development capabilities, including ICT-related higher education resources, industrial networks, research institutions and research funding. The growth rate of Taiwan-based patent applications is comparable to that of Europe or the United States. As such, the output of this entire suite of technologies and equipment can be tailored to fit projects in each of our partner countries.
Promoting Taiwan's Experience in E-government
Taiwan has already been promoting e-government for over a decade — from government-related network infrastructure and applications through to projects that promote and focus on social care. Such initiatives, whether designed to improve efficiency or to raise service quality, have been recognized by international ratings agencies. Drawing on the advanced state of ICT in Taiwan and the country's experience of building the sector through its different stages should provide a means of assisting partner countries to improve public sector governance capacity and develop business opportunities in the private sector.
TaiwanICDF's Objectives and Methods
In accordance with trends in the global information economy, as well as high levels of development in Taiwan's own ICT industry, we assist our partner countries to improve their ICT capacity, reduce development gaps and cultivate their digital capabilities, which together represent an indicator of the pursuit and further upgrading of our foreign aid operations.
Improving Administrative Efficiency by Assisting Partners to Build E-government Systems
Drawing on Taiwan's experience in developing e-government, we support the governments of our partner countries to expand their public services via ongoing technical cooperation. We also introduce technologies and resources from the private sector to assist partner countries in the development of ICT and a wide range of applications. Our ICT Technical Cooperation Project, for example, aims to establish a National ICT Center in St. Lucia in the Caribbean. The project includes the development of an e-government system and the introduction of administrative applications such as an advanced transport licensing authority system, a crime management system, a civil status registry system, an agriculture resource system and other related e-government systems. The purpose of the project is to develop an environment in which the use of electronic applications may flourish, and thereby improve the transparency of information at a government level, as well as improve the government's administrative efficiency.
Medium- to Long-term Investment of Resources
The development of the ICT sector takes place over different stages and is closely linked to the quality of infrastructure and national human resources. However, most of our partners are at the initial stages of developing their ICT sectors and are limited by a number of constraints. For these reasons, ICT projects must be comprehensive and take medium- to long-term planning and the investment of resources into account. For example, our ICT Technical Cooperation Project in Belize, which has been under implementation since 2007, has centered on the construction of a National ICT Center and the development of e-government systems. Project handover was completed during 2012. Based on this successful implementation, which has received the plaudits of the government of Belize, the second phase of this cooperative project will take the medium- to long-term development of the country into account, focusing on the further development of existing systems to ensure that the public can be provided with convenient services in keeping with international standards.
Strengthening Capacity Building
Since human resources are crucial assets for the development of ICT, some of our most important tasks involve training government employees to operate e-facilities and enhancing their capacity to use ICT applications, in addition to assisting in the construction of knowledge management and work platforms. The purpose of such training is to ensure that projects can be handed over to local specialists, so as to improve governments' administrative efficiency and enhance such countries' ICT competitiveness. In both Belize and St. Lucia, for example, we have already completed the transfer of educational and training courses. Now, these partners can design ICT training courses of their own, using their ICT centers as a base from which to train and educate governmental officials to improve ICT-related capacity, and marching forward toward independent, sustainable forms of ICT development.
We assist our partner countries to manage and develop regionwide forms of ICT, as well as improve links and interaction with international organizations, including the acquisition, integration and application of resources. To do this, we have developed a systematic and professional training system, offering technology and management workshops and organizing exchanges of technology, research and development and training activities. Moreover, we have successfully established a positive image for Taiwan by offering assistance to developing countries and helping them to develop their soft power.
Sources
Information Economy Report 2010. United Nations Conference on Trade and Development.
World Information Technology and Services Alliance (WITSA), Digital Planet: The Global Information Economy 2010