Education
→ Project List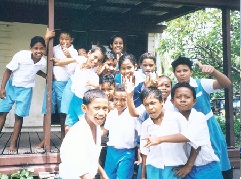 Global Challenges and Opportunities
In many developing countries, especially in the least developed countries, the development of human resources is often the key to economic growth and social development. In addition to being constrained by poor infrastructure, health care systems and gender inequality, economic growth in such countries can be inhibited by poor institutional capacity, the quality of human resources, the poor performance of basic education, high unemployment and a lack of a professional workforce. The following challenges in education are adapted in part from the UN's Report of the Secretary-General: Human Resources Development (2009) and the Millennium Development Goals Report 2012.
Basic Education (Primary and Secondary Education)
Two MDGs make specific reference to improving basic education: Goal 2, to achieve universal primary education; and Goal 3, which includes a target to eliminate gender disparity in primary and secondary education (as well as tertiary education). For both of these MDGs, significant progress has been made. However, a number of problems remain to be addressed. In certain regions, enrollment in basic education remains stubbornly low. Elsewhere, by contrast, the success of increasing placements in primary education means that demand for secondary education is growing. In 2010, 122 million young persons (15-24 years old) were functionally illiterate, severely limiting their opportunities to find meaningful, well-paid employment.
Imbalances in the Supply and Demand of Human Resources and their Impact on Development
In the earliest stages of their development, developing countries require large amounts of relatively unskilled workers, whose energies can be focused on "building up" a country's infrastructure and for work in other basic sectors such as agriculture. Once this has occurred, however, we often see the following situation playing out:
In developed and fast-growing economies, computers are taking on, substituting for, or complementing much of the work done by human beings in such areas as processing information and rule-based tasks, resulting in a rising demand for higher-order skills.

Levy, Frank, and Richard J. Murnane. 2004. The New Division of Labor: How Computers Are Creating the Next Job Market. Princeton, NJ: Princeton University Press and Russell Sage Foundation; cited in Wang, Yidan (2012). Education in a Changing World: Flexibility, Skills, and Employability. World Bank.
When developing countries enter into a phase of rapid growth, training plays an important function in meeting such countries development needs. Any imbalances in the supply and demand of human resources can otherwise affect socio-economic development.
Capacity Building: A New Foreign Aid Strategy for Human Development
Capacity building has become a much-discussed topic in recent years. In addition to shaping the response toward developing countries' human resources needs, capacity building also reflects something of a new direction in foreign aid strategy. The United Nations Framework Convention on Climate Change, for example, clarifies the importance of capacity building, explicitly calling for developed nations to provide the kinds of tools and methodologies that would support education and training, so as to help various stakeholders to adopt better responses to adaptation, and to assist highly vulnerable countries through the development of a wide range of national adaptation strategies.
To develop capacity building-related aid strategies, the United Nations Development Programme has been promoting and popularizing the idea that capacity building can enhance the genuine effects of foreign aid since the 1990s. Capacity building means addressing the problem of individuals or organizations whose capacity is weak or insufficient by making a sustained investment in all stakeholders (including central and local government, NGOs, and professionals, community leaders, academics and other persons), to integrate the scientific, technological, institutional and related capabilities of such units, to provide long-range assistance to develop local policies and methodologies, and to assist individuals or organizations to develop problem-solving abilities and raise their potential.
 
The UNDP proposes that capacity building should take place at three levels: at an individual level, an institutional level and a societal level.
At the individual level, capacity-building involves establishing the conditions under which public servants are able to embark on a continuous process of learning and adapting to change … At the institutional level, a similar approach needs to be applied … [S]upport should focus on the modernization of their machinery, with a priority on systems and processes. In this process, capacity development for policy support, organizational effectiveness and revenue and expenditure management is crucial. Finally, capacity development at the societal level is required to support the paradigm of a more interactive public administration that learns equally from its actions and from the feedback it receives from the population at large. In order for public administration to be seen as a responsive and accountable service provider, whose performance needs to be monitored, societal change is required.

UN Economic and Social Council. Committee of Experts on Public Administration. Definition of basic concepts and terminologies in governance and public administration. 2006.
Taiwan's Strengths and Resources
A Successful Economy and Experience of Socio-economic Development
During its economic history, Taiwan has been through an initial period of import substitution, a period of expansion in exports, a second period of import substitution and periods of industrial upgrading and globalization — a series of successful social and economic reforms that gave rise to the "Taiwan Miracle" and saw the country take its place as one of the four Asian Tigers, becoming a model for many developing countries.
Among other things, decades of reform and development in economics and trade, agriculture and fisheries, social development, health care, agriculture- and aquaculture-related technologies, science and engineering, the environment and other issues unique to Taiwan's experiences of economic development can assist developing countries to provide training for policy planning, the implementation of capacity building operations amongst professionals, and project content.
Widespread Higher Education
Taiwan's higher education system has already shifted from being an exclusive system to being a widespread system. With a diverse, rich variety of universities and departments on offer, this system has become the foundation for the cultivation of human resources in Taiwan.
In recent years, education authorities have sought to effectively upgrade the quality of schools and research by promoting monitoring and evaluation mechanisms, strengthening the overall environment for the internationalization of Taiwanese education, and focusing on the promotion of academic research. These measures are increasing the international competitiveness of Taiwan's academic sector and assisting in the country's industrial and cultural development, so that Taiwan can open itself to the global market for education and become Asia's principal provider of higher education services.
Experience in Technical and Vocational Education and Training (TVET)
The promotion of TVET had a successful hand in the smooth transition from agrarian to industrial society that took place in Taiwan, and the subsequent move from its focus on labor-intensive industries to its focus on technology-based, technology-intensive, capital-intensive and high value-added industries. This encouraged the growth of professional talent as a means of promoting economic restructuring and industrial upgrading.  
Secondly, Taiwan's economy has historically been driven by the need to meet market demand. The immediate forms of training offered through TVET systems therefore not only allowed individuals to enter the labor market quickly, but also accelerated the development of the Taiwanese economy. Among other things, creating employment market intelligence systems, strengthening the functions of employment agencies, establishing license issuing systems, providing TVET-oriented microcredit, enhancing management capacity at TVET centers and cultivating expertise in technical training have all added value to Taiwan's experiences of vocational training.
TaiwanICDF's Objectives and Methods
In accordance with the trends and Taiwan's advantages discussed above, the TaiwanICDF aims to meet partners' national development needs by assisting them to strengthen their TVET systems, build a pool of basic human capital, cultivate professional expertise in a variety of fields and nurture quality skills throughout their labor forces.
Reduce Barriers to Enrollment; Achieve Universal Primary Education
With basic education forming the bedrock of personal and national development, we are supporting one of the MDGs, "Achieve universal primary education," especially through our promotion of a TaiwanICDF Scholarship Program in Burkina Faso.
The project is funded by the TaiwanICDF, while Terre des Hommes, a Lausanne, Switzerland, based organization, will implement the project. The TaiwanICDF, the Taiwanese embassy in Burkina Faso and UNICEF will all be responsible for monitoring project progress. Funding will be employed at gold mines and quarries throughout nine districts in three provinces, sufficient for at least 2,000 cases of financial support, including for families who lack the means to support pre-school children, children of school age or young children who have not had the chance to pursue primary education before. Providing assistance to improve primary education facilities at such sites will improve students' learning environments, enhance the schooling opportunities and learning outcomes of impoverished children, and gradually reduce instances of exploitation and child labor through the provision of education.
Meet Regional Demand for National Development through a Range of Workshops
Since 2011, we have been gradually organizing a greater number of special classes as part of our program of workshops, including worldwide, regional and single-country workshops. This is introducing partners to Taiwan's unique experiences of social and economic development and assisting them to develop their human resources. Every year we organize around 20 workshops, whose main themes cover economics and trade, agriculture, fisheries, social development, human resources, TVET, the environment, health care and ICT. As many as 400 people – government officers from developing countries, together with high-level government officials and NGO personnel – visit Taiwan annually to participate in these events.
Assist Partners to Cultivate Talent through Higher Education
The accumulation of knowledge is critical to long-term development in our partner countries. We will continue to assist partners to cultivate talent through higher education as part of our approach toward technical cooperation and by strengthening academic exchanges. This will provide the human capital needed for development in such nations and build Taiwan's "soft power." Through our International Higher Education Scholarship Program, we are presently providing full scholarships to talented young people who come recommended by our partner countries, providing undergraduate and graduate courses, taught entirely in English, to help such countries to cultivate high-quality professionals.
Provide Short-term Training and Promote Projects involving Seed Teachers
Since 2005, our Healthcare Personnel Training Program has drawn on cooperation with dozens of Taiwanese medical institutions to provide two to three months of clinical training to medics from our partner countries. On returning home, these participants become seed teachers responsible for promoting TaiwanICDF medical projects, or become involved in project-related assistance. This expands the depth and scale of bilateral medical and technical cooperation between our organization and our partner countries, creates a pool of local personnel who have the potential to serve as contacts during future cooperation with Taiwan, and lays the foundation and the pipeline for long-term bilateral medical cooperation.
Commit to Enhancing Vocational Training Programs
We promote vocational training in order to assist partner countries' economic development and to meet the private sector's need for a range of professional human resources. Emphasizing high-quality and professionalism as part of the development of vocational training in our partner countries, promoting industrial-academic cooperation and convergence, enhancing students' employability through TVET and helping local people to actively seek employment opportunities all advance the objective of realizing economic and social prosperity. For example, in the Marshall Islands, where we have been promoting TVET-related projects, in addition to cultivating the talents of the actual trainees involved, we have also assisted government or cooperating units to build capacity, which enables such stakeholders to take on and continue to operate these projects, ultimately enhancing the skills and quality of the local workforce.
Utilize Financial Instruments and Consulting Services
Other than technical cooperation, we also utilize financial instruments and consulting services which, through their close connection to industrial trends, assist partner countries to strengthen their TVET systems. At this stage of human resources development we are focusing on youth capacity and providing timely, lending-based assistance, to encourage entrepreneurs in our partner countries to study and then become actively involved in social and economic endeavors.
Sources
Millennium Development Goals Report 2012. United Nations.
United Nations Development Programme.
Wang, Yidan (2012). Education in a Changing World: Flexibility, Skills, and Employability. World Bank.
Global Employment Trends 2012: Preventing a deeper jobs crisis. International Labour Organization.
Bureau of International Cultural and Educational Relations, Ministry of Education (Chinese).