Agriculture
→ Project List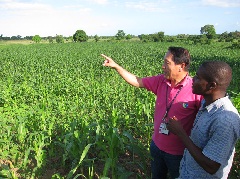 Global Challenges and Opportunities
The following challenges facing agriculture are adapted from the International Food Policy Research Institute's (IFPRI) 2011 Global Food Policy Report.
Price Volatility and its Impact on Food Security
Despite falling slightly since reaching their peak in early 2011, the cost of staple foods and grains remains high: In recent years, prices on the FAO Food Price Index have consistently remained double or higher than the 2002-4 baseline rates. Perhaps more importantly, volatility and uncertainty remain, leading development actors to place a greater focus on food security to ensure that agricultural production and distribution at a local level are sufficiently resilient to withstand short- to medium-term "shocks."
At a time when existing problems of poverty, food insecurity and malnutrition continue to constrain development, the likely impacts of climate change present an additional set of challenges, such as unstable patterns of rainfall and rising temperatures, that farmers worldwide will need to adapt to. In order for farmers and agriculturalists to mitigate and adapt to such effects, a great deal more research is required to understand how these phenomena will affect specific localities over the long-term, for example by sowing drought-resistant seeds and introducing new crop varieties. But on the basis of research already completed, including simulations that extrapolate various scenarios and potential outcomes using data currently available, it seems highly likely that climate change will reduce the overall availability of calories around the world. If this outcome is not to lead to malnutrition and increases in mortality, then international consensus will need to be reached on using market mechanisms to reduce food insecurity in specific, insecure "hotspots" and/or areas where famine is prevalent.
Urbanization and the Loss or Degradation of Agricultural Land
The world population surpassed seven billion in late 2011 and the growth of urban centers and shifting patterns of land use has seen increasing numbers of people encroaching upon agricultural land. This is increasing pressures on ecosystems at a time when 24 percent of the global land area has been affected by land degradation. In addition to halting this trend of degradation, agricultural productivity needs to be raised sustainably over existing farmland, particularly by raising productivity to narrow the gap between the actual yields and potential yields available over a given area. Research indicates that the best means of doing this would be to manage and improve soil fertility through the integrated application of organic and inorganic fertilizers, and the use of improved crop varieties. Furthermore, the sustainable management of land relies upon improvements in local and national governance and cost-effective incentives that will encourage farmers to pursue such practices.
Links between Agriculture, Nutrition and Health
The importance of maintaining and improving the links between agriculture, nutrition and health is receiving more attention than ever. As noted in the IFPRI report:
The agricultural system may help increase people's access to food by allowing them to produce more food (if they farm themselves) or by lowering food prices or raising their incomes (if they purchase food). By improving their access to food, agriculture has the potential to greatly improve people's nutrition and health.
This issue is of particular importance to small island nations that have hitherto relied on imports to make up for a shortfall in domestic agricultural production.
Globalization, Regional Agricultural Development, Quarantine and Certification
The importance of promoting regional agricultural development is rising higher and higher up the agenda. In a rapidly globalizing world, where agricultural produce and processed products are crossing borders at increasing rates, gaining the right certification and producing high-quality produce that meets increasingly complicated phytosanitary and quarantine standards is essential. This issue is of particular importance in Central America, where the ongoing commercialization of the agricultural sector is driving agribusinesses to seek new markets for their exports in North America. Support should be provided for capacity building and experience sharing between national agricultural units, and to establish regionwide early warning systems to manage the control and spread of diseases.
Taiwan's Strengths and Resources
Agriculture has played an important role in the development of the Taiwanese economy. In addition to contributing to exports, the growth of agriculture ensures sufficient domestic food supplies, and stable wages and commodity prices. Agricultural products, which have long been a major component of Taiwanese exports, facilitated the import of equipment and materials required during the early development of Taiwanese industries and the country's wider economy. 
Based on its experience of developing and transforming its agriculture sector and taking its partner countries' infrastructure into account, Taiwan employs a number of agricultural resources as part of the development process in such partner countries, as discussed below.
Implementation of Agricultural Mechanization
Due to changes to its economic and social structures, the outflow of manpower and rising wages, agricultural mechanization has been underway in Taiwan since the mid-1960s. Over these past 40 years, farmers have diversified from planting rice to planting more specialized crops, flowers, fruits and vegetables. Livestock industries and fisheries also developed during this period. Automation has become more and more common to agricultural practices and has been widely applied to the application of insecticides and fertilizers, field work, the production of seedlings, greenhouse-based cultivation, post-harvest handling, transportation and animal husbandry and fisheries, which has substantially reduced operating times, improved efficiency and reduced costs effectively.
Establishment of Production and Marketing Organizations and Sound Agricultural Transportation and Distribution Systems
Modern agriculture is an enterprise-based undertaking, not only in terms of the scale of production and marketing operations, but also in terms of its focus on operating efficiencies. In Taiwan the sector comprises a large number of smallholders, so a common transportation and distribution strategy has been essential to establishing operations on an economic scale large enough to reduce costs, enhance collective bargaining power and increase market share.
Production and marketing organizations operating in Taiwan's agriculture sector have successfully improved the production and marketing of agricultural products for local farmers. Production and marketing groups, farmers' and fishermen's associations and agricultural cooperatives, for example, are engaged in the common transportation and distribution of agricultural products. Farmers' associations, in particular, provide services that promote agricultural products. They also supply agricultural production materials, process and export of agricultural products, and finance and promote certification systems for premium agricultural products.
Development of Recreational Agriculture
Recreational agriculture in Taiwan has been under development for many years and seen agriculture upgraded to a primary from a secondary and tertiary industry. Recreational agriculture combines rural scenery and natural ecological and environmental resources with agricultural activities and agricultural, forestry, fisheries and livestock production to give urbanites an opportunity to experience rural life and take a vacation in the countryside. Agritourism farms, citizen's farms, educational farms, recreational farms, forest recreation areas, recreational fisheries, B&Bs and similar facilities are the results of recreational agriculture. Simple agritourism farms have developed into comprehensive recreational farms and recreational agricultural areas, representing one of the most important factors in the adaptation of agricultural structures, improvements to agricultural competitiveness and increases in farmers' incomes in Taiwan.
Innovation in Agricultural Technology
To improve agricultural technology in Taiwan, recent years have seen greater levels of investment into the research and development of technologies, as well as training. These efforts have focused on the development of new species, biological agricultural production materials, testing agents and vaccines, as well as embryo transplantation and the development and application of cloning. Variety improvement, field management, seasonal adjustments, post-harvest handling and protected cultivation are also major practices drawing on aspects of agricultural technology. The hope is that such practices can assist in the development of local varieties of rice, agricultural specialties and aquatic and animal-based products. Mechanization, automation and the computerization of agricultural operations have been promoted continuously to improve efficiency and reduce production and marketing costs.
Taiwan's objectives in agriculture are to develop technologies that favor environmental protection and add value to products. Major applications of these technologies include cold storage, refrigeration and processing, or operations that improve product quality, maintain food sanitation and safety, conserve soil and water resources, protect wild animals and promote agricultural pollution control and waste treatment.
TaiwanICDF's Objectives and Methods
In the face of the increasingly urgent problem of global food security, we aim to assist partner countries to safeguard food safety by drawing on Taiwan's technological advantages and experiences. We hope to minimize the impact of the food crisis, increase the added value of agricultural products and improve farmers' livelihoods.
Increase Production of Crops and Animal Protein through Technical Cooperation
To minimize the impact of the food crisis, we have taken measures to increase the production of crops and animal protein through technical cooperation. The comparative advantages of Taiwan's production sectors, such as rice production and aquaculture, have been introduced to improve productivity and ensure balanced nutrition, as well as to enhance partners' rates of self-sufficiency in food production.
In terms of rice production, our Torbeck Rice Production and Marketing Project in Haiti, for example, aims to increase the income of farmers and rice millers by establishing contract farming practices, repairing irrigation facilities and establishing a production and marketing system. These activities have prevented social unrest by improving food self-sufficiency in Torbeck and mitigating rising food prices.
In terms of aquaculture, our Aquaculture Project in Honduras, for example, aims to produce high-quality sources of protein for children in remote areas of the country by cultivating broodstocks, demonstrating breeding, producing fry, organizing and guiding farmers to form cooperatives for the transportation and sale of aquatic products, and developing various species suited to aquaculture.
Promote the Development of the Agricultural Sector in Partner Countries
In terms of production management, we are promoting the development of the agricultural sector in partner countries by introducing them to the experiences and methods that Taiwan has used to support its own farmers, such as production and marketing groups, cooperatives, and farmers' and fishermen's associations. Production and marketing information is integrated to develop the essential technologies that sustain the development of agribusinesses. The purpose of these measures is to enhance the development and implementation efficiency of agricultural policies, as well as to increase incomes and improve the livelihoods of farmers in our partner countries.
Our Papaya Export Project in Petén, Guatemala, for example, aims to establish a complete supply chain for the export of agricultural products, give production guidance to farmers and others working in the agricultural sector, promote local agricultural development, support the government of Guatemala to diversify its industries, promote the development of remote areas and develop unconventional export products. Meanwhile, in response to the decline of the sugar industry and release of government-owned land in St. Kitts and Nevis, our Agronomy Development Project has been implemented to develop alternatives to sugar in cooperation with the Ministry of Agriculture and Marine Resources. The ministry will implement the project on a sustainable basis, with the TaiwanICDF providing technical support and helping to build capacity where relevant.
Provide Short- to Medium-term Financing for Farmers and Microbusinesses
To ensure that projects develop sustainably and continue to expand long-term benefits, we began to implement Small Farmholders' Financing Schemes some years ago, to provide a channel for farmers to raise production funds and to receive an initial injection of two-tier technical and financial assistance, and to increase the economic scale and depth of assistance projects. Such microcredit projects have been combined with agricultural assistance projects to provide short- to medium-term financing for farmers and microbusinesses and thereby promote sustainable agricultural development in our partner countries, as well as to achieve the first MDG of reducing extreme poverty and hunger.
Promote Aid for Trade by Improving Animal and Plant Disease Prevention and Quarantine Measures
Aid for trade, which has become the focus of various organizations since its launch by the World Trade Organization's General Council in 2006, aims to improve the trading capabilities of developing and underdeveloped countries through technical assistance, capacity building, economic reform and infrastructure, so that such nations can be integrated into the multilateral trading system and enjoy the economic benefits of trade liberalization.
With trade liberalization ongoing, the type and quantity of agricultural products being exported and imported are increasing. This has increased the risk of spreading invasive plant species and pests, such as Huanglongbing in citrus fruits in Central America and banana leaf spot disease in St. Lucia. It is therefore important to improve partner countries' animal and plant disease prevention and quarantine measures in order to control the spread of diseases, protect the safety of agricultural products and increase the value of agricultural trade. With this objective in mind, for instance, the Ministry of Foreign Affairs commissioned us to implement a Strengthening the Control of Huanglongbing and the Implementation of Integrated Pest Management in Citrus Project that the Regional International Organization for Animal and Plant Health proposed to the Taiwanese government.。
Sources
OECD-FAO Agricultural Outlook 2010-2019. Organisation for Economic Cooperation and Development/Food and Agriculture Organization of the United Nations.
'Taiwan's Advantages in Agricultural Development,' National Policy Foundation, Taiwan (Chinese).