Environment
→ Project List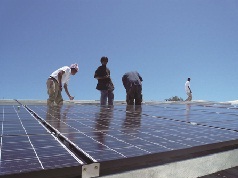 Global Challenges and Opportunities
The following strategies, designed to ensure that sustainable development is green, inclusive, efficient and affordable, are adapted from the World Bank's Toward a Green, Clean, and Resilient World for All: A World Bank Group Environment Strategy 2012-2022.
Measuring and Accounting for Natural Resources
For growth to be sustainable, governments need to focus on "overall" wealth and assign value to key indicators other than GDP. This means adjusting national accounts and identifying more accurate means of measuring nations' wealth by placing a positive value upon resources such as forests, fisheries, coral reefs, wetlands, and other land and water resources; and by placing a negative value upon pollution and environmental degradation, and then adjusting development policies and strategies accordingly. Governments need to be able to measure the value of their natural resources and receive support to protect such resources over the long-term, rather than exploit such resources for short-term gain.
Climate Change and Natural Disasters
Climate change will affect various regions of the world in various ways — some may be positive (such as increased rainfall in arid areas); however, some may be negative (such as increased desertification in previously temperate areas). In any case, climate change is likely to give rise to increasingly volatile weather patterns, thereby raising the likelihood that the number of natural disasters will increase in the future. Governments should be supported to improve their disaster preparedness measures, and more generally to adapt to and mitigate the effects of climate change as necessary. This means supporting environmentally sustainable practices such as afforestation (which guards against landslides and erosion) and coastal zone management (which guards against flooding and rising sea levels). Countries that have mangrove resources, for example, should be supported to maintain such resources due to the natural protection they offer against coastal erosion and rising sea levels. Furthermore, technologies such as geographic information systems (GIS) can allow governments to survey and manage environmentally sensitive areas of land and engage in forward planning.
Energy Efficiency and the Introduction of Clean Energy
Energy infrastructure in developing economies can be highly inefficient and out of date. At a national level, governments should be supported to improve the efficiency of power plants and similar infrastructure, or supported to introduce new, clean forms or renewable or "green" energy such as solar power, LED lighting, etc. — whichever option is the more financially viable.
Introduction of Other "Clean" Technologies
At a more local level, technologies such as biogas and recycling can improve the efficiency, sustainability and profitability of agricultural and industrial processes by re-using byproducts that could otherwise have a negative impact upon local environments.
Small Island Developing States
Many of the issues already noted above are of particular relevance to small island developing states. Due to their need to import fossil fuels at great expense, such nations should be encouraged to develop and generate clean forms of energy that can reduce their dependence on such fuels; and due to the likely impact of rising sea levels, such nations should also be supported to maintain and bolster fragile ecosystems. Furthermore, due to their geographical isolation, such nations should also be supported to become self-sufficient in food production by marshaling their existing agricultural and marine resources in as sustainable a manner as possible.
Role of the Private Sector
Private sector enterprises should receive support to exploit natural resources sustainably as part of a viable, competitive business strategy. This may include incentives, possibly in the form of subsidies, to innovate and create new, "clean" technologies that provide jobs and create or widen access to new markets.
Taiwan's Strengths and Resources
Located in the Pacific Ring of Fire and lying within a subtropical monsoon region, the island of Taiwan is prone to frequent natural disasters such as earthquakes, typhoons and storms. Various detection mechanisms have therefore been set up to monitor the environment. Geographical information systems (GIS), for example, are used for land planning, the monitoring of natural resources and the environment, and for planning emergency responses.
To minimize damage to limited environmental resources, which might not recover after disaster, environmental protection measures have been supplemented by the development of solar technologies and biogas. Taiwan's development experience not only meets the objectives of the World Bank Group Environment Strategy cited above, but also represents a model that partners can refer to in pursuit of sustainable environmental development in their own countries.
Advanced Environmental Monitoring Systems
Remote sensing (RS), GIS and global positioning systems (GPS) are used to monitor a wide range of environments where severe natural disasters such as typhoons, floods, landslides, forest fires and large-scale plagues of insects or similar pests might occur. Such systems can be very helpful when judging and making decisions relating to disaster control and mitigation, rescue and post-disaster environmental recovery. By promoting effective management practices, they are also useful for preventing manmade environmental damage, and are powerful tools for developing and safeguarding environmental sustainability.
RS, GIS and GPS are mature technologies in Taiwan. These well-developed technologies, together with the Formosat-2 satellite, one of the few satellites circling the Earth twice a day and covering Central America and the South Pacific, have enabled Taiwan to assist its partner countries to establish land management and disaster response management policies. Satellite images, which can be used for various spatial and data-driven applications, are made available to partner countries based on established partnerships. This has proven helpful in the creation of a new area of cooperation in international environmental sustainability.
Enriched GIS Interpretation and Educational Resources
Once GIS technologies have been introduced, it remains important to train local talent to integrate and interpret GIS data. In Taiwan, training has been conducted in this field for many years. The Center for Space and Remote Sensing Research, National Central University, for example, established a satellite ground receiving station in 1993 to receive remote sensing images from the SPOT-4, SPOT-5, ERS-2, Terra, Aqua and Formosat-2 satellites. In addition to providing satellite images and other value-added products, the center is engaged in research on irradiation, geometry and remote sensing applications, as well as related technical consultation, education and promotional services, making it a pioneer of satellite-based remote sensing technologies in Taiwan. GIS research centers have also been established at National Taiwan University, National Cheng Kung University and Feng Chia University, all of whom also offer related programs of study as part of the wealth of GIS-related educational resources available in Taiwan.
Well-developed Energy-saving Technologies
In its 2012 White Paper on the Energy Industry and Technology, the Executive Yuan cited the launch of the Dawning Green Energy Industry Program on April 23, 2009 as an example of Taiwan's active promotion of the green energy industry. The program involves the development of seven major areas of the energy industry: solar power, LED technologies, wind power generation, biomass energy, hydrogen-based energy and fuel cells, energy-related information and communications technologies, and electric vehicles. In 2010, the production value of Taiwan's "green energy" industries was NT$390 billion, with both solar power and LED technologies enjoying a significant global market share. The processing technologies and equipment involved in many of Taiwan's materials, electronic, electromechanical and mechanics industries have great potential for use in the green energy industry, and have become an important means of assisting our partner countries.
Mature Recycling Technologies for Agricultural and Aquaculture Waste
Taiwan is devoted to resolving agriculture- and aquaculture-related pollution issues with added value in mind, and in recent years the results have been clear. Manufacturing fodder or compost has been one way of recycling useful resources, with waste being processed to make low-price fodder and fertilizer, or used in the production of health care, skin care and natural antimicrobial agents.
Rich Educational Resources on Energy and the Environment
Environmental protection involves a variety of sectors and requires close interaction between government, industry and academia. Environmental awareness in Taiwan arose earlier than in many other countries and many policies have been established accordingly. Government, industry and academia have access to rich educational resources such as the Sustainable Energy Policy Guidelines laid out by the Ministry of Economic Affairs' Bureau of Energy; and research by the Industrial Technology Research Institute and industrial and academic institutions into solar power generation and heating, wind power, hydrological power, marine energy, geothermal energy, biomass energy and fuels, fuel cells and hybrid forms of vehicle propulsion, green buildings, environmentally friendly lighting, carbon footprints and sustainable development. All such research is made available for the use of Taiwan's partner countries.
TaiwanICDF's Objectives and Methods
Based on the global environmental protection strategies discussed above, we use advanced equipment already well-established in Taiwan, together with Taiwan's development experience and educational resources, to assist partner countries to improve energy efficiency and promote sustainable, environmentally friendly development.
Improving Natural Disaster Response and Management Mechanisms
Based on Taiwan's experience of using GIS applications, the technical assistance that we provide to our partner countries assists them to estimate the extent of disaster areas and minimize injury and damage by drawing up the appropriate emergency response. For example, we have cooperated with Nicaragua since 2008 to implement the Application of Geographic Information Systems to Improve Environmental Sustainability in Nicaragua project. A number of severe disasters, including forest fires, landslides and water spouts, have occurred during the project period, and we have provided real-time monitoring images to assist Nicaraguan authorities to assess such disasters. The second phase of satellite image analysis remains to be conducted during 2012, while the project's annual education and training program was completed in May.
Based on this successful cooperation with Nicaragua, we are now cooperating with Honduras to implement a similar project, 2012 Satellite Monitoring of Forest, Natural Resources and Mitigation of Natural Disasters in Honduras using GIS and RS. Satellite images and analysis data relating to land changes are being provided to the government of Honduras, so that authorities can understand, at any time, how land resources are changing at specific sites within protected areas, and then take appropriate measures to minimize damage to life or public property.
Assist Partner Countries to Develop Green Energy Via Investments or Financing
On the issue of energy sustainability, we use investments or other financing instruments to provide partner countries with the funding required to develop green energy in pursuit of the seventh UN Millennium Development Goal: "ensure environmental sustainability." For example, we have invested in the European Bank for Reconstruction and Development's Green Energy Special Fund, to assist the organization's countries of operation to replace old, energy-inefficient infrastructure with efficient, energy-saving technology or equipment. The project effectively lowers the threshold for manufacturers of low-carbon technologies to enter the market and demonstrates an acceptance of energy-saving efficiency and low-carbon technology programs.
Renewable and Clean Energy Technology
In terms of the development of new sources of energy, we assist partner countries to implement pilot projects involving renewable energy technologies, usually in the form of technical assistance projects. Our Panama Water Resource and Renewable Energy TA Project in Panama and a Renewable Energy Technological Assistance Project in St. Kitts and Nevis are two such examples. Using solar power to drive feedwater equipment ensures that reliable water resources are available to Panamanian residents, increasing agricultural production value and improving the living standards of local people.
We are also involved in assessing the feasibility of using clean energy in six Pacific island partner countries, having provided suggestions and assistance regarding potential clean energy developments, such as solar energy and wind power. Future cooperation will focus on energy development and improvements to the utilization of energy resources.
Safeguard Environmental Sustainability
For our partners who are most threatened by climate change, the assistance we provide focuses mainly on risk management and adaptation measures that minimize damage. Our Access to Potable Water in Rural Swaziland Project, for example, was implemented in response to water safety issues in Africa as raised at the United Nations Conference on Sustainable Development. Another project, Application of Geographic Information Systems to Improve Environmental Sustainability in Nicaragua, focuses on land planning and disaster controls in Nicaragua, as part of which, through project workshops and regional seminars, we have held extensive discussions on the concept of using GIS in land-use planning or as disaster prevention tools. Both projects were implemented with an eye to promoting environmental sustainability.
Agricultural Waste Treatment
We have introduced many agricultural waste treatment technologies into cooperation projects that focus on partner countries' agricultural production. These technologies have been effective in reducing agricultural pollution in places that still have relatively fragile environmental systems, thereby ensuring that environmental resources are utilized sustainably. In Honduras and Nicaragua, we are now implementing biogas energy projects; in Nauru, an organic composting project involving the processing of agricultural waste; and in Guatemala, an organic waste-based carbon reduction and recycling project.
Environment and Energy-saving Education
We use Taiwan's experience to provide assistance to partner countries in response to climate change, emphasizing the ways that existing technology can be applied to mitigate emissions and reduce carbon footprints without affecting economic growth. To make the best use of technology that we hand over, the process requires that emissions mitigation activities take international standards of efficiency and equity into account. Our Workshop on Clean Energy Development, for example, is organized mostly for the benefit of governmental officials responsible for energy resources and related affairs. We have also dispatched volunteers to Palau, St. Lucia, Panama and other partner countries to provide environmental protection services. We hope to introduce concepts and technologies relating to environmental sustainability from Taiwan to our partner countries and thereby fulfill our obligations as citizens of the Earth.
Sources
Toward a Green, Clean, and Resilient World for All: A World Bank Group Environment Strategy 2012-2022. World Bank.
Bureau of Energy, Ministry of Economic Affairs.
'Seminar on the Establishment of a Taiwan Marine Industry Zone,' Taiwan Ocean Research Institute (Chinese).
Tainan District Agricultural Improvement Station, Council of Agriculture (Chinese).